My "TO DO " list is about a half mile shorter than it was a month ago, but as I sat at my desk this morning looking for comments from you and deleting junk mail, and generally avoiding what needed to be done, a red truck drove past my bedroom window headed back toward the new house.
Hey!  What are they doing?  Who is that, anyway?
And what is under that blue tarp?  I see the edge of something wooden.  Is it . . . . ?  Could . . . it . . . be . . . . ?
IT IS!  This, my dear friends, is super exciting and is going to make up for the doldrums of buying switch plates and receptacle covers later today.
Enough with the formalities, Jake!  GET ON WITH IT!
Get those babies up here PRONTO!
Easy does it!  Watch that door frame!  Careful, now.
Ok, good.  Right this way, and watch out for those newly-painted walls.
1, 2, 3, UP!  Heave ho, fellas.
And one hour later, guess what we have in the kitchen?
The most amazingly gorgeous and unbelievably fantastic . . .
Kitchen cabinets, including an island that I can roll around, because I was too addlepated to pick a permanent spot for it.  You know, better like this?  Better like this?  Or like this?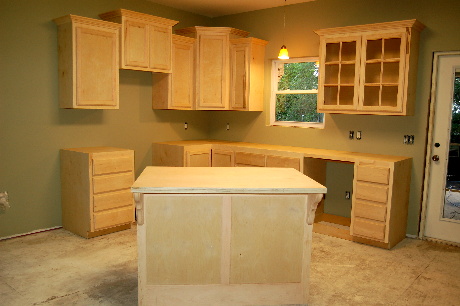 The cabinet with the panes is in memory of my Great Grandmother Addie and Grandmother Vi who lived together.  I have a lot of memories of their tiny kitchen and the glass-paned wall cabinet where chocolate jelly ring candies hid, waiting for us to find them when we went to visit on Wednesday nights and watched Greenacres, Beverly Hillbillies, and Lost in Space. I already love that cabinet.
Honestly, I love, love, love all these cabinets.  They are worth every penny the twin brothers who own and operate Cypress Woodworks had to pry out of my pudgy hand.  Josh measures and designs, and Jake installs.  They make a great team, and together with a crew of carpenters, they turn out really beautiful work.
Next?  Paint, paint, and more paint.  Yes, the cabinets are paint grade maple–not cypress.  Sorry if the company name misled you.
Can't wait to see if you like them as much as I do.  If you don't?  Well, you can say so, but I'll just think you're saying that because you're jealous.  But don't steal my joy!  These are absolutely the most beautiful thing I think I have ever owned.
Awestruck,
BW