This accident occurred just down the road from Camp Dularge yesterday. The below photo and a brief story were printed online yesterday afternoon.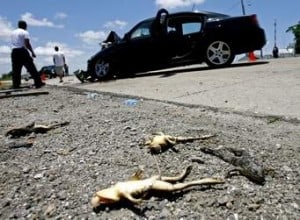 Photo by Matt Stamey/The Courier
Dead frogs lay on the shoulder of La. 315 in Dularge Thursday afternoon after a Dodge Charger crashed into a Dodge pick-up while trying to turn left off Brady Bridge.
The driver of the Dodge truck was traveling south by himself and had been frog hunting earlier. (By himself? Are you kidding me? Witha bucketfull of frogs as passengers? Frog hunting earlier? Wouldn't that indicate using a gun? We went "frogging" night before last and all I used was a light and my bare hands. Let's get the facts straight here people! You don't catch frogs in the daytime, either.)
There three passengers in the Charger and both drivers were transported with only minor injuries. Great. But what about the frog fatalities lying on the side of road? I mean, did somebody at least give them a decent burial? Or did someone take them home and clean them for supper? Let's not consider this road kill, folks, nor should we let these frogs die in vain.
I know this seems like a ridiculous story, but it really did happen. There were EMT trucks there and a Med-Evac helicopter. It had the potential to be a horrendous tragedy for the humans involved. But BW is here to tell you if those frogs went to waste, it was indeed tragic.
Coming soon: How to keep frog legs from jumping out of the frying pot!
Ribbit!
BW