Who dat say dey about to learn to fly?  Who dat?  Who dat?
The Two Little Who Dats, dat's who.
Since I was out of town for a couple days, and then sick in bed for another day upon my return, I was concerned that the owlets might have flown the nest in my absence.
So, feeling about 80% better, I donned the nearest pair of pants and t-shirt, grabbed my camera and headed to Camp Dularge to look for my babies.
Typically, I climb the stairs to the back deck, and sit in the chair I have perfectly positioned for a clear view of the nest.  But when I sat down and looked up, I was shocked by what I saw.
N O T H I N G !
The nest was not where it had been for the previous months.
I scanned the tree branches, which are no longer heavily laden with oak blossoms (why do they produce those irritating things, anyway?  It's not like they are real flowers.).  With a new outgrowth of bright green leaves, the owlets would no longer be well camouflaged.
Not too far from where the nest used to be, I spied something.  Looking closely, it was hard to tell whether I was seeing a baby or a parent owl.  It appeared to have its head tucked down on its chest, sleeping.  The wind was blowing so hard, I was amazed at the creature's ability to hang on to the branch and sleep while swaying in the strong March winds.
I haven't looked it up, but fledgling means a bird that is about to learn to fly and leave the nest.  Well, interesting thing about that nest.
Can you see all the sticks, scattered all over?  That's the remnants of their nest.  Of course, knowing how weird I am, you won't be surprised to know that when I saw this, a line from the James Taylor song "Fire and Rain" floated through my brain, "Sweet dreams and flying machines in pieces on the ground."  Except my version went like this, "Sweet dreams and owlets' nest in pieces on the ground."
But, I digress.  The light bulb flickered on, as I thought,
"AHA!  So THAT'S how the parents get their little charges to leave the nest!!!  They don't kick them out of the nest.  They kick the nest out from under them."
And sure enough, upon closer examination of the surrounding area, the nest lay in pieces all over the ground.  Lest you start hypothesizing about my theory, let me tell you that you will never convince me that the wind blew that sturdy nest down.
As I walked under the tree, an owl took flight above me–so quickly that I decided it was a parent owl keeping watch while the babies slept.  I continued walking under the tree looking for the second owlet.  And as if by magic, she appeared in almost plain sight.
As you can see from the darkness of the photo, the day was quite overcast; and since I don't have one of those flash boosters that sends a bolt of light 30 feet out, these pics are the best I could produce.
But I really think you will like this one  . . .
After each photo, she winked her right eye at me.
Out of about twenty-four photos, the flash managed to capture the eyes in the one photo above.  We stood and stared at each other for a very long time.  No need to worry that she might mistake me for her mom, because after six weeks, she has imprinted firmly on her owl mother.
I'm not sure exactly how old they are now, but the fact that the nest is gone tells me the parents are ready for them to become self sufficient.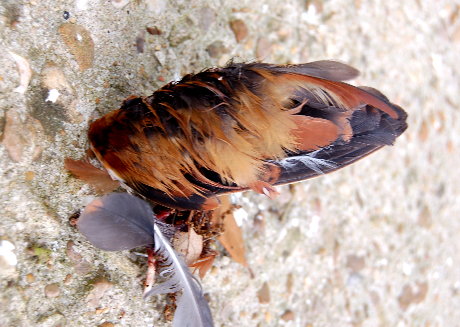 And now, any particle of food they drop no longer falls in the safe-keeping of the nest, but falls to the ground as food for the ants.  Here is obviously a morsel dropped from a recent meal.  I was wondering if my friend Kim could tell us what kind of bird this was by the color of the feathers.  Kim?  The feathers are the color of a robin, actually.
Friday, just before heading out of town, I stopped to check on Lady Grey and Earl. Lady Grey has been sitting on her eggs for weeks now, and since I had no way of keeping track of how long she had been doing so, I had no idea when the babies might hatch out.  Sadly, I discovered two dead chicks lying on the ground inside the pen Friday. Immediately suspecting Earl was the killer, I had The Captain lift up the pen, and I ran his cocky butt out with a big stick.  Yep, just turned him loose right then and there to fend for himself.  I mean, how DARE he mistreat his offspring?
And then, I listened very closely inside the nesting box where Lady Grey sat, unruffled by Earl's eviction, and I heard ever-so-faintly coming from under her body, "cheep, cheep, cheep" and knew I had done the right thing.
This is what I found upon my return visit to the Chicken Tractor . . .
Again, I apologize for the poor photo quality, but I was trying to point the lens through chicken wire, which is not kind of, but very, tricky.
But you get the picture, right?  She is a very good mother, bowing her broad wings out over her babies, shielding them from  harm.  Reminds me of a Bible verse that says something about God wanting to gather his children together, like a hen protecting her chicks.  That's just a very interesting analogy to me.  Lady Grey is, indeed, very protective.
It is my hope they are both hens.  That way, I will have my little hen farm and Earl Grey will have done his duty.  I'm not sure when, or even IF, he will ever be allowed back in the hen house.  If not, there just might be a future post entitled, "Earl Grey Bites the Dust or How BW Became a Pioneer Woman".  And shortly thereafter will be a post about a very good recipe for chicken stew.
Keeping things real,
BW