The weekend began early on Friday with a  paddle down Bayou Lafourche with friend and former co-worker, Diane Huhn of Bayou Grace Community Services who provided the photos for this post.
The first time I participated in this paddle trip was way back in November of 2004, where I met and made friends with Kim and Sam, who just happen to be down here from New Mexico for the paddle.  They stopped by Camp Dularge for a couple of nights, but I had a surprise for them.

When they left camp Dularge on Wednesday, they headed for the headwaters of Bayou Lafourche at Donaldsonville, LA, where the tenth anniversary of the "Paddle Bayou Lafourche" would begin on Thursday.  My secret plan was to surprise Kim by showing up at the launch site at Madewood Plantation on the Friday, the second day of the paddle.
As we awaited instructions for the morning's paddle, I sneaked up behind her with a big HELLO! and am very sorry I didn't have my camera with me.  There were about 100 people on the paddle trip, in about 60 boats, so there wasn't much time to visit before launch time.
The paddle was a strenuous one because of the headwinds we endured most of the day.  Thank goodness Diane loaned me her gloves, or I would have had blisters the size of Texas.
Along the way, we found time to chat with old friends and made new ones along the way.  As we traveled down the bayou, folks paddled by and exchanged greetings followed by questions of "where are you from?" and "is this your first paddle trip" and then just like the wind, they were gone, replaced by new set of faces, floating by.
Thank goodness for the occasional bridge crossing the bayou, where ropes hung down holding baskets of refreshments for us.
What a marvelous idea!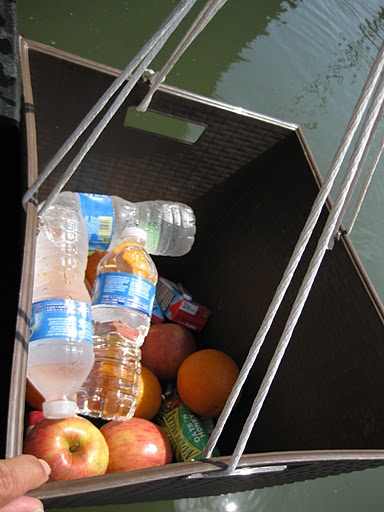 I think Diane helped herself to a "Big Bird Juice Box" while I had an apple to stave off the hunger until we reached our lunch stop.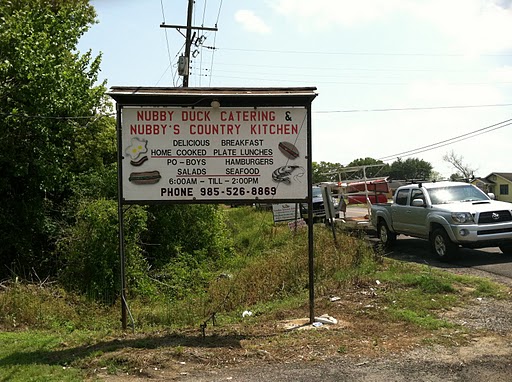 We finally reached Nubby Duck's at around 12:30 and had worked up quite an appetite.
We were tired, but not too tired to joke and cut up about our newly-acquired cases of "the boat butt".  If you've spent any time sitting in one spot, sweating, for hours, you know what we're talking about!
Somewhere along the way, we were treated to live music.  Only in south Louisiana will you find a Cajun band, playing on the banks of the bayou in the hot sun and loving it.  We hung out there a while, resting, enjoying the music, and taking pictures.
The 15-mile paddle trip ended at the Jean Lafitte Wetlands Center in Thibodaux around 4 p.m.  It was a long, enjoyable and very rewarding day.  Everyone else hung around to have supper and set up their tents while I drove on down the bayou to my cozy bed to rest up for my next adventure.
Thanks to Diane Huhn, the official photographer of the day, for letting me use these great photos!