Phone call and a Valentine
THE PHONE CALL:
Me:  "Hello?
Danno (21 year old single son!):  "What are you doing right now?"
Me: "I'm just talking to a house-raiser man, why?"
Danno:  "Because I want to come down and hang out with you and the boys before I go back on the boat tomorrow.  Do you need anything from town?"
Me: "Well, I'm not sure what I'm cooking for supper."
Danno:  "Don't worry about cooking for me.  I ate Subway for a late lunch."
Me:  "Okay, then, come on down."
Danno:  "Okay.  And I'm also bringing your Valentine gift!"
Me:  "Uh, gift?  Okay, see you in a little while."
THE GIFT: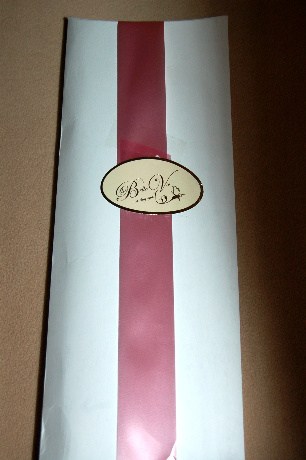 Looks like it might hold a chocolate rose . . .
No rose, but a whole lot more.  A gift card to a day spa I've been wanting to try.  And a very generous gift at that.
Me: "Son, why did you spend so much money on me for Valentine's?  We don't exchange gifts on Valentine's."
Danno:  "Because, Mom, you've been working hard and you deserve it and you said you wanted to try this place.  Daboo and I checked it out and it's really nice, and I knew you would never spend the money on yourself.  Go enjoy yourself while the boys are at Disney World."
Me:  "Well, thank you!  I'm looking forward to it!!  I love you, son."
Danno, in his best Cajun accent:  "Mais, I luv you too dere, cher!"
To all of you out there who have wee ones that you're raising:   Hang in there, love 'em hard, discipline 'em hard, play hard with 'em and one day you'll turn around and that little bug-bite kid will be a kind, considerate man who will one day make one very deserving young woman a very thoughtful husband.
And then I took two gel caps for all my symptoms, which will knock me out because I hardly EVER take medicine—mostly herbs—but I have not been sleeping.  I need to sleep tonight, so
Good night everyone!
BW