Photographers' Tour (part 2)
When photo artist Christy and I were emailing back and forth about what sorts of things she wanted to photograph, she mentioned wanting to see mangroves. Knowing there are none on the inland tour route, I mentioned that there were surely some out at Raccoon Island, the western most island in the Isle Derniere, our historical barrier islands. Of course, she said she would love to go out there, and I explained it was quite an excursion from here to there. Meanwhile, I confirmed with another photographer friend, Darlene, owner of Bayou Belle Photography, about whether those bushes I'd seen on the island were indeed mangroves.
Darlene's confirmation about the mangroves set my wheels to spinning about the fact that she and I had a barter that had not yet been satisfied on my end. Having been very involved in keeping an eye on the pelicans and other wading birds post oil spill, she had visited the island a couple times and gotten some great photos. At her art exhibition at Houma's Southdown Museum in 2011, I saw her amazing photo called "Brotherly Love', two young pelicans in the nest, one with its head on the other one's shoulder. I knew that photo would be a fantastic house-warming gift for my friend who was moving back to New Orleans from the Dallas area. I also knew I couldn't afford it.
But Darlene said she would gladly swap a framed version of the photo for a trip out to Raccoon Island. And now, I realized it was time to pay up. I had one photographer down from New York who wanted to see and photograph mangroves and a local photographer to whom I owed a trip to the island. The weather forecast held out, Darlene had a free day, so the trip was planned.
Photographers' Tour to Last Island
We launched the boat and left early enough to see the sun rise from the waters of Sister Lake. Clouds seemed to slice right through the bright pink sphere.
The water was already a little rough, and I was met with lens troubles right off the bat. It's really not cool for a photographer to make excuses for bad pictures, but I'm making this disclaimer now: I definitely had technical difficulties the whole trip, and my photos will back that up!!! In spite of that fact, I will put my pride aside and use the photos I have to tell this story for you.
At the Gulf, we were met with some pretty choppy waters. Navigating those waves was a little like riding a salty seahorse (to borrow a phrase from Darlene!). We pressed on and reached the island at around 7:10 a.m. The sky was overcast, which was a real blessing with the temps we've been enduring over the past couple of weeks, but an overcast sky just doesn't make for the best photos, especially when your lens is acting up.
Darlene donned her waders (smart lady), and showed me where to approach a sandbar so they could get out of the boat. Darlene tried several times to set the big danforth anchor so that I might join the island adventure, but the sand was much too firm for the anchor to get a bite. Like a good captain, I stayed with the ship.
With the waves and wind both pushing me up against the bank, it was harder than I thought to keep the boat off the bank AND off the top of them!
But I managed, and they were brave souls, jumping in waist deep and heading off to their island adventure, tripods and cameras in tow.
The rolling ground swells reminded me, woefully, of my days on crew boats in the Gulf of Mexico when we were tied up to a rig. Give me an eight-foot pounding wave any day, but being stationary while those waves rock and roll is just something my tummy can't handle. Couple that with being downwind of the unbearable stench of bird poop, and you have a recipe for unpleasantness.
While trying to figure out what was wrong with my lens, that old feeling of sea sickness swept over me, which I hadn't felt in over thirty years. It's sort of like trying to read in a car–some people can, some can't. To ward off that queasy feeling, I decided to put the camera down and do some fishing. All I got for my efforts were a couple of nibbles and a slimy gaftop sale that broke the tip of my rod. And that was the end of fishing.
Motoring to the eastern most end of the island, and keeping an eye on my charges, I decided to go ahead and try to take some photos to while away the time. Breathing through my mouth in order to avoid that nauseating stench, my camera and I went to work.
The island is home to nesting shore birds of all kinds. I'm no expert, but Darlene is. She mentioned seeing species like terns, ruddy turnstones, seagulls, pelicans, plovers, egrets, and more.
There were birds everywhere I turned, and they were all just doing their thing, and obviously could not smell their own stench!
After nearly three hours, and the clouds making way for the sun, it was time to wrap up this photo shoot. As I made my way toward the pick-up point, I noticed other people walking on the shoreline toward Christy and Darlene. Christy jumped in first, and as Darlene was making her way into the boat, a young woman was yelling at them from the shoreline asking whether or not they were doing surveys. At that point, a bay boat pulled up behind us with some official-looking people on board.
Their life vests had big initials on the front, but the boat was unmarked. There were two men in the boat and three people on the shore. The two men asked me to wait, saying they needed to talk to us. With the waves rocking and rolling us around in about two feet of water and the wind pushing their boat toward us and us toward the bank, it wasn't the best case scenario for hanging out and talking.
Being a little impatient with the whole idea, I yelled, "What do you want with us?" To which the older of the two men answered, "We need to let them know they were on a wildlife refuge and bird sanctuary." Darlene explained how they had stayed well away from the marked nesting areas, to which he explained that the whole island is now off limits. He gave her a verbal warning and his business card and let us go. The whole while I was thanking my lucky stars that these were biologists and not enforcement, or surely, someone might have gotten a ticket.
As we were pulling away, Darlene shouted out to them that there were four pelicans tethered together with fishing line just up the beach, and one of them was already dead. They followed us as she pointed out their exact location. Much to my surprise, two of the men and the two women disembarked to go save the pelicans.
I was relieved when they did, because Darlene had already asked me for my knife, saying that if they didn't cut them free, she was going to go free them herself, as she had already tried with a set of keys, but no luck. I don't doubt for one minute that she would have jumped overboard and swam there if she had to. She and the pelicans have a very deep bond.
Below, you can see the first pelican set free and swimming away to the left, while the biologists work to free the second bird.
In a short time, the third and final pelican was released and seemed to be more injured than the other two.  Darlene said it's because this one had more fishing line around its feet than the others.
In spite of its wounds, the pelican made its way back into the water, where it was able to swim. I like to think that the saltwater somehow eased its wounds and set them to healing right away.
Please know that I feel I might be taking a professional risk by sharing this story with you, but I think sharing the blessings in disguise are worth the risk. It was a blessing that the anchor would not hold, preventing me from going on the beach and possibly getting a citation.
On the other hand, even though Darlene had been out there several times before, she was not aware that the whole island was now off limits. She sees her ignorance of the law as a marvelous twist of fate for those three pelicans that would surely have gone the way of the fourth one, had she not discovered them and had those biologist not come along when they did.
She shared with us back at the landing how, for personal reasons, she knew ahead of time that this would be her last trip to the island. Little did she know, it would be her last trip due to it being totally off limits to the public now. Ignorance of the law is no excuse, but sometimes ignorance is its own reward.
This was my second encounter with the state Department of Wildlife and Fisheries in just as many weeks. Even though I realized they were just biologists and not enforcement, I really wasn't putting my name out there if I didn't have to because I encounter lots of folks who work for government agencies in my line of work and as an outdoor writer.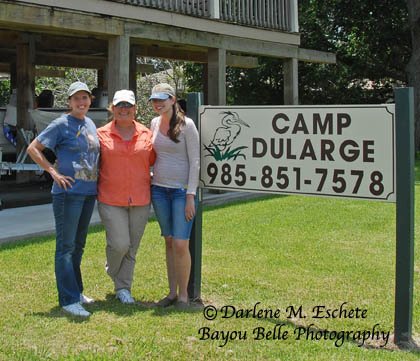 So, you never know what you might encounter on a Bayou Woman Adventure. Darlene and I decided we would call this one a Bayou Belle-Bayou Woman Adventure. And Christy? She was the quiet one who basically had the adventure of her life, no matter what we call it!
Your unintentional outlaw,
BW