Pick a pair of painted buntings!
There I was, sitting at my computer, minding my own business, talking on my cell phone, French door open letting in the gorgeous fall breeze, and I saw a quick flit of red land in the oak branch just off the edge of the porch.
I slowly rolled my chair back so I could see into the branch, but all I could see was a slight hint of red.  The person on the phone, also a birder, told me to take a picture.  But alas, when I got out of my chair to get the camera, the little bird flew away.  From what I could see, it looked like a scarlet tanager stocking up for its flight south.  Thing is, though, I didn't have a bird bath set up yet or any bird feeders out to attract anything.
The next day, I saw another zip of red pass by and land in the same oak tree, and I knew it was not a cardinal.  I watched it as intently as I could to see where it would land, and even though I had neither binoculars nor camera in hand, I swear I saw three colors on that bird.  And then while I was sitting there straining my eyes, a little bird, almost solid green, landed on a wire that runs from my porch down to the oak tree and just sat there:  A FEMALE PAINTED BUNTING, and where there is a Mrs., there is also a Mr.
Painted buntings once flew through here heading south and again heading north in the spring by the thousands, as told to me by oldtime birders.  They were so plentiful, that Mr. S. from Grand Isle shot them with his BB gun when he was a boy, about seventy years ago.  There aren't as many painted buntings passing through here these days, but I don't think Mr. S. and his BB gun are what caused the declining numbers of painted buntings.
The declining numbers are caused by a receding shoreline and sinking barrier islands.  When the birds leave their wintering grounds–places like Panama and Yucatan–they fly across the Gulf of Mexico for days until they see that first ribbon of land.  Many of them literally fall out of the sky, exhausted from the journey; tired, hungry, and thirsty.
As Isle Derniere, (Last Island) once a twenty-one-mile island chain, eroded away and sank into the Gulf of Mexico, the birds had to fly farther and farther before reaching their respite from flight.  Many of them fell far short of the receding shoreline, drowning in the Gulf waters.
Of course, the buntings aren't the only species in decline for these reasons.  But it seems each spring when I go to Grand Isle, now the first island many of these migrating birds see, everyone wants to see the illusive and rare painted bunting.
I remember the first time I went to Grand Isle for the "fall out", spring 2004.  Isat in the back yard of Mr. S. gleaning wisdom from his years of attracting the migrating birds to his yard.  He said, "Cher, you can have the same birds in your yard if you just plant the right trees, put out some seed, and hang a water hose in the tree."
I feel very fortunate, even blessed, that even though I have not had the time to do any of those things at the new house (because what was once the "back yard" of the old house is now the "front yard" of the new house), a pair of painted buntings paid me a visit this week.
Mr. P.B. is on the left and the Mrs. is on the right.  She looks sort of yellow in this bad lighting.  But isn't he a beauty?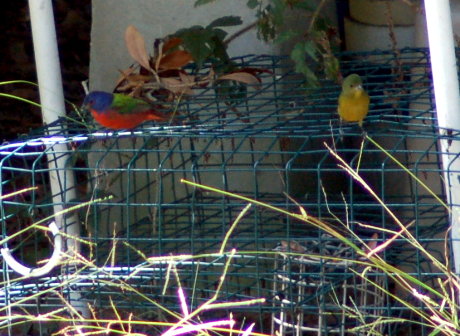 You can see them a little bit better in this one.  I apologize for the poor quality photos.  I took these from the porch of new house, and they were almost out of range for my lens.
They flew up into the oak tree for a minute when something frightened them.  She is just barely visible.
Just now while I was typing this post, The Captain called me out onto the porch to ask me what kind of bird this was . . .
Oh my gosh!  It's another Mr. Painted Bunting!
Isn't he attractive?
And then there were two.  This one was down in the grass eating, while the other one was up in the bushes.
Last count, and this is a first I am so excited I could POP!  There are FIVE male painted buntings in my yard, but they are out of lens range.
We're doing our bird watching from the new retro porch furniture that The Captain asked for.
This sweet green retro glider . . . . reminds me of a chair my mom had in the sixties.
And these chairs remind me of the chair Mom had, but hers was green, as I recall.
The fall weather, the migratory birds, and the porch furniture all inspired me to start designing a bird sanctuary in the back-yard-turned-front-yard.  I moved all the old potted plants from the old house today.  Everything is in disarray, but the plan will work itself out in my mind, and maybe LilSis will help me with it when she gets here.
Bird watching and waiting on LilSis,
BW