Picking up the Pieces after Hurricane Ike
This post is going to sound like I am all brave and on top of the situation, but I assure you I AM NOT.  LilSis has been manning the helm while BigSis has been holding down the home port, preparing supper meals for us and caring for my two sons (in addition to her large family).  Without them, I would be a pile of useless matter.
And that is no lie.
So, would you like to know a capsule version of what has happened since I left you Saturday?
Of course, LilSis and I made it safe to a South Louisiana town that did not flood and to the home of BigSis Saturday night.
Sunday morning, the water was still too deep on parts of the highway for trucks to travel down the bayou, so we imposed on my good friend Capt. Droopy to take us by boat to see what we could see.    We traveled about 20 miles by boat to get to my bayou town.
At one point, we lost our minds and put LilSis at the wheel.
As we traveled through the Mandalay Wildlife Refuge, the smell of hurricane-stricken marsh and swamp engulfed us.  However, the area looked pretty good after having been through two bouts of hurricane-strength winds in the past two weeks.
The closer we got to the canal and then to civilization, the more things changed.  It became obvious very quickly that my bayou had taken it on the chin–again.
And here is the first place I wanted to see . . .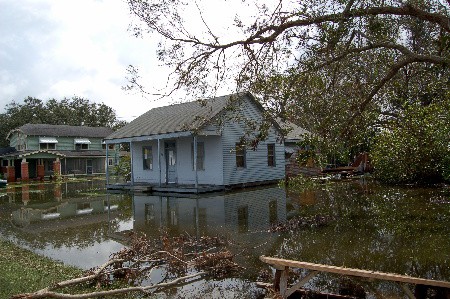 …the cypress house about 30 hours after Hurricane Ike made landfall in Texas.
LilSis waded bravely through the water to take a look inside.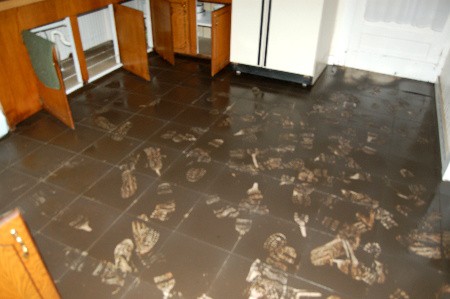 There was an oily mud all over the floors,
the water appeared to have come up about 8 inches in the kitchen and
and about ten inches in the bathroom.  The floors definitely aren't level.
The utility room basically blew down, where someone helped themselves to our gasoline cans and six-foot ladder.  The washer and dryer took on a few feet of water–see the water line on dryer?
The back door neighbors have it pretty bad . . .
Look closely and you will see the water still standing.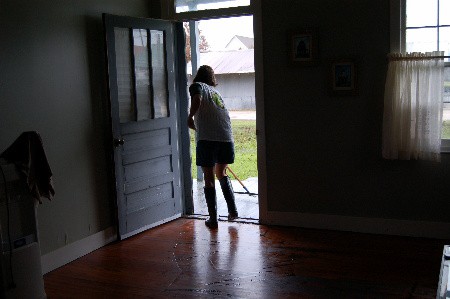 Most of Monday was spent mucking out mud with a squeegee . . .
and sweeping out water we hosed onto the floor to loosen the mud that had already dried. LilSis got the living room floor looking pretty good.
Today, LilSis cut up a foam mattress that had somehow slid onto the floor and soak up a TON of water, while I hauled the pieces to the roadside.
My good friend DB and her daddy came from Mississippi with their generator and wet vac, which really helped suck up the mud and water from the front bedroom.  Until that point, we had no power at all.  Thank goodness we had a "cool" front and the north wind had been keeping us from baking.
I can sit here and tell you that it could have been a whole lot worse, but I don't think I have to tell you how much it crushed me to see the past six months of my hard work (and that of those who helped) be destroyed.  The original wood floors held up well.  However, the rest of the house did not do so well.  The new plywood is buckling and the tiles are coming off.
Today was better for me emotionally than yesterday, and tomorrow will be better yet.  Thanks to all of you again for your thoughts, prayers, encouragement.
FAMILY UPDATE:
My daughter and son-in-law live a little further north, and while they suffered power outages, they are back at work and school.  My two oldest boys pretty much live on their tug boats now and they are both at work and fine.  The Captain has been back on his boat since last Thursday and is working right along, too.
And today we finally found . . . . . . .
Bayou Fabio alive and well and none the worse for the wear from riding out TWO MAJOR HURRICANES!!!  He reminded us of Tom Hanks in "Castaway".  His story will be another post for another day.  (Remember, last time I heard from him he was in the middle of a hurricane . . . .)
My personal home took on more water and when I went inside it today, mold and fungi were already growing on all the furniture.  I don't think we can salvage much besides our clothes . . . . that's all I can say right now.
Don't know when I'm going home,
BW