Propeller Graduation and the Results!
After 12 challenging weeks of driving to and from New Orleans, sometimes twice a week, the Accelerator Program at Propeller has finally come to an end. It was intense, informative, enlightening, and all those other adjectives that could best describe a successful entrepreneurial, startup program.
Before I go any further, I'm going to act like a famous novelist and acknowledge all those people who had a hand in furthering my bright dream of offering weekend immersion trips to bayou country:
The Propeller Team: Andrea` Chen, Julia Stewart, and Ginny Hanusik for the opportunity, hospitality, and all the pro bono professional help
My tirelessly patient lead mentor, Mike Eckert for guidance, advice, and the name change
The Loyola Interns: Trich Lee, Melanie Boeckl, Eduardo Ruiz, Christian Clark, and Justin Leohn for four weeks of hard work in the midst of exams putting together a comprehensive marketing strategy
My new and uber-talented graphic designer: Robin McDowell
All the startup ventures for the encouragement, networking, and naming-drill ideas
And now, to give you what you didn't even know you were waiting for, the highlights of the Accelerator program as it applies to my businesses. Presenting the new…
Beyond The Bayou Excursions
This past Tuesday night was "graduation" night for all 30 ventures. In order to finish the program, we had to give a three-minute pitch covering all major facets of the business, along with a four-slide Power Point presentation. Easier said than done, my friends, easier said than done. I'll be honest with you: Put me in a room in front of hundreds of people, a podium to stand behind, and a screen to stand in front of, and extemporaneous speaking becomes my forté. I can spew out the most interesting presentation you've ever seen about heard coastal wetland loss. But stick me in a smaller, tighter space, no podium, and slides on the wall behind my back, and tell me to cover every facet of my business venture in three minutes to three judges sitting only a few feet in front of me? Well, I choke, bomb, freeze up, crash and burn, whatever you want to call failing; and that's exactly what happened to me in the trial run two weeks ago. But thank my lucky stars that by Tuesday night, I had rehearsed my three-minute pitch so many times, I could almost do it in my sleep. Yeah, there might have been a little stumble or two, but my voice was steady, and I didn't pass out in front of an audience of about 50 important New Orleans movers and shakers. Heck, I even made eye contact with a person or two.
It's something like what they call an elevator pitch. You happen to end up in an elevator with a potential business investor or customer, and you've got this short window of opportunity to hit the high notes of what your business has to offer and hope something they hear will make him/her want to know more.
So, pretend you are my potential customers, but rather than giving you my pitch aloud, I'm going to share it with you in writing, along with the slides, and see if I can convince you to get your group together and come on down in 2016.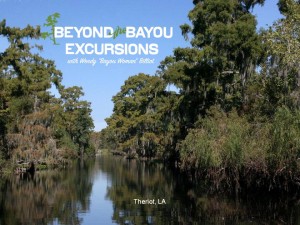 I'm Capt. Wendy, also known as the Bayou Woman, and my venture is Beyond the Bayou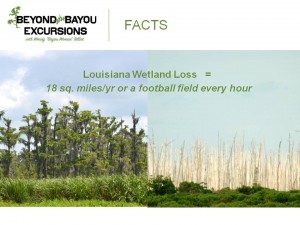 Excursions in Theriot, LA, which is in the heart of one of the most rapidly disappearing wetlands in the world. Coastal La. loses about 18 square miles of wetlands a year or about a football field every hour due to natural and man-made causes. This loss impacts human life, marine life, wildlife, plant life, and birds, a fact of which many people are not aware. The mission of Beyond the Bayou Excursions is to increase awareness of this loss and to foster new appreciation for these wetlands.
Through my book, Before the Saltwater Came, my wetland presentations, and two-hour boat tours, I have educated thousands of people over past 10 years about the plight of coastal La. By combining my experience as a wetland educator and tour guide with my camp rental, Beyond the Bayou Excursions seeks to educate more people via two-and-a-half-day excursions for photographers, bird watchers, and university students.
Photographers will gain new insight into wetland loss issues as they photograph landscapes, wildlife, birds, and people.
Bird watchers will gain new understanding of how wetland loss negatively impacts not only the habitat, but also bird species and populations.
University students will further their education about different types of wetlands, wetland loss impacts, causes, solutions, and restoration methods.
The excursions are for groups of 4-6 people and include overnight accommodations, meals, and a boat trip into the wetlands. Additionally, an expert in each field of interest will be available to guide and instruct.
Beyond the Bayou Excursions is a for-profit venture which generates revenue from per-person excursion charges. The goal for 2016 is to book four excursions per month which will increase the boat tour revenue by 75% and the camp rental revenue by 25% over 2015.
I hope you will agree that Beyond the Bayou Excursions are as unique as our wetlands and that you will promote them to your club members and students. For more information, please visit beyondthebayouexcursions.com. Thank you.
So, my friends, after the holidays, I will be busy implementing the marketing strategy laid out for me by the Loyola interns. I will be emailing out one-pagers to the photography clubs, birding clubs, and university professors. If any of those email me back expressing interest, then I will offer them a free boat tour and offer to pitch the excursions to their club or department heads/professors. I will be updating the blog page for the excursions, updating social media pages with new name, and designing business cards and flip cards for tourism racks.
By the way, these excursions are replacing my Bayou Woman Adventures, which never quite took off, BUT that in no way means that I would turn away any group of 4-6 women that wanted to come down and enjoy their own excursion. That includes families, too. It's just that for the sake of the program, and my deferral to the experts, I needed target markets based on market research. So, we shall see after I've done all I can do to promote this new venture, if it will pay off in the end.
Meanwhile, we're gearing up for a couple of Bayou Christmas celebrations, which will include lots of delicious food and delectable goodies that we only indulge in once a year.
I'd love for you to tell me what your holiday plans are, what's on the menu, and give me some feedback about my Beyond the Bayou Excursions, if you like.
Merry Christmas,
~ BW ~