Rantings of a Restoration Junkie
As a wetland advocate and tour guide, it is my privilege to educate people from across the nation and across the oceans about the beauty and bounty, degradation and disappearance of the wetlands here.  They learn about the necessity of healthy marshes to protect humans, wildlife, and infrastructure from storm surges.  They hear for the first time that roughly every 2.7 miles of healthy marsh reduce a storm surge by one foot.
However, inland marshes are just one part of a larger ecosystem that makes up coastal Louisiana.  Within this much-needed ecology exists another unique microcosm called an estuary system.  In order to understand the life cycles of aquatic life, all good fisherfolks (women, children and men who fish) need to know what an estuary is.  An estuary is an area where freshwater from rivers, streams, or bayous join with saltwater from the ocean or gulf.  This ecosystem is necessary in the life cycle of most of the species we love to catch and eat here in coastal Louisiana, including fish, shrimp, crabs, and oysters.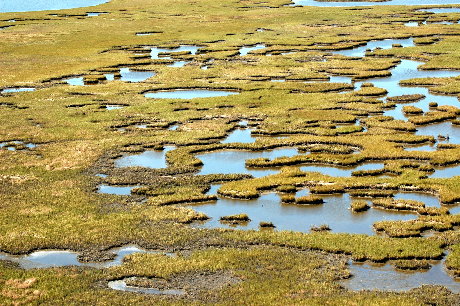 Unlike the sandy shores of other Gulf–bordered states, Louisiana's coast was formed by Mississippi River silt, deposited over thousands of years, forming a rich, marshy coastline.  This marshy coastline, with all its lush edges, comprises the nursery grounds in which baby fish, crabs, and shrimp live and grow.  This, in turn, makes for prime fishing grounds, made up of species like red drum and spotted sea trout, just to name two.
The spotted sea trout (speckled trout), a much-sought-after sport fish, depends on the estuary for its survival.  From egg to spawning adult, every phase of the speckled trout life cycle occurs in the less saline inshore estuarine environment.  Without the estuary system, this is one fish species that would cease to exist.  Are we ready for that?
Red drum (redfish), live in the shallow waters of the estuary system until the average adult age of three, when they head to the deep waters of the Gulf of Mexico to spawn.  The popularity of the red drum has made coastal Louisiana a redfish rodeo Mecca, with millions of dollars spent chasing the bronze-bodied beauties.  Consider, though, as the brackish marshes retreat inland, where the redfish will thrive.
Recent events have put an endangered system at even more risk by crude oil leaking from the site of the Deepwater Horizon explosion. Coastal restoration is needed now more than ever to protect the estuary system that hangs in the balance.  Louisiana's Governor Bobby Jindal has asked for this protection to start with the rebuilding of the barrier islands to six feet using sand dredged from the Gulf of Mexico–a process that was stopped far short of its goal.   However, the rebuilding of all coastal islands can only be a plus for the Louisiana coastline when considering that the badly eroded barrier islands were the first line of defense years ago, providing a large speed bump for tidal surge.
Furthermore, the barrier islands are only the beginning of what is needed to maintain the intricate balance between freshwater and saltwater in Louisiana's estuary system.  With wetlands that are subsiding at the rate of a football field every half hour and about twenty-five square miles annually, sport fishing and conservation groups alike should be riding shotgun on the coastal restoration bandwagon.  Their leaders should be cracking their whips on the backs of policy makers regarding the future of fishing in coastal Louisiana.
As oil spews and coastlines sink into the Gulf of Mexico, my wetland tours continue with interested tourists asking the same questions over and over:
Why are these wetlands not state or federally protected?
Why don't the commercial and recreational fishermen care?
Why isn't large-scale restoration being done?
The answers, complicated, convoluted, or non-existent, cause great unrest in those who take the tour and leave.  They shake their heads in disbelief that those who benefit most from coastal Louisiana's resources seem to care the least.  They walk away still asking questions that the benefactors should have answered many, many years ago in the form of "less talk and more action".
So the challenge at hand is to ask another set of pertinent questions:
How much longer can we fish these waters before the estuary system fails?
Will we continue to reap the rewards of this system with no regard for preserving it as we go?
Do we care enough to implore our lawmakers to put coastal restoration at the top of the list?
Whether sport fisherman, commercial fisherman, or consumer of the resulting seafood, we should ask and answers these questions.  Then we should ask where we fit in the broad scope of the plight of coastal Louisiana and what we should be doing in order to preserve this unique estuary ecosystem for future generations.
To the outsiders who visit here briefly, Louisiana is indeed a Sportsman's Paradise that sits on the verge of imminent demise if nothing is done.  To those who take of the harvest and don't give back, this Sportsman's Paradise will become the sacrificial lamb.
Is that a sacrifice we are willing to make?