Renovating the Cypress Cottage Bathroom
First, you need a working bathroom, right?  Well, with the help of LilSis and Handy Friend, the bathroom is getting a much needed makeover.  
Here's a little sample of the floor before we started.  
And this, after LilSis and I removed the toilet.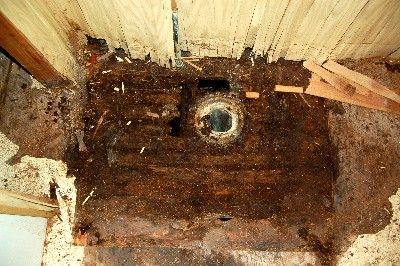 Sorry, I just had to do it. Forgive me, please.  
LilSis disconnected the plumbing under the sink, then we removed the old vanity and bathtub to make ready for the demolition of the rotten floor.
Handy Friend to the rescue!  LilSis and I are pretty handy with tools, but this part of the job was way bigger than us, because some of the floor joists had to be reinforced.
 Doesn't look like much in the photo above, but Handy Friend got the subfloor all fixed up in no time.  
LilSis and I put down the new floor, and it looks 100% better already!  Next is to install the new toilet, put the tub back in place, and hook up all the plumbing.  WATS to the rescue!  We can handle that! 
To be continued, I'm sure!
BW