I bought 2 pounds of beautiful shrimp at a grocery store in town.  I know.  It's a shame.  But most of us lost what was in our freezers after the storms, and we won't replenish until the May season.  When I cleaned them, I saved the heads and the shells to make this . . .
Shrimp stock.  Cover the contents in plenty of water, bring to a boil,
then reduce heat, cover and simmer for about an hour, making sure the water does not cook out.  Don't pay any attention to those beady black eyes.  Those were the hardest things for me to look at when I cleaned my first shrimp over 30 years ago!  You get used to it.  I don't even notice them now.  Strain and cool to use later in stews and gumbos.
We are going to use ours in shrimp stew, cher!

Start with a heavy sauce pan, and turn the fire/heat to medium, warming the pan first.  (See the trusty kettle back there full of water heating up, too?)
"First we make a roux!"   (pronounced "roo" for those of you who aren't familiar with Bayou or Cajun cooking.)

Add one half cup oil.  You can use just about any kind you like.  This was vegetable oil, but some folks use shortening, butter, olive oil. And as Vance mentioned in a previous post, heart-healthy folks brown their flour without oil.  Let the oil get pretty hot.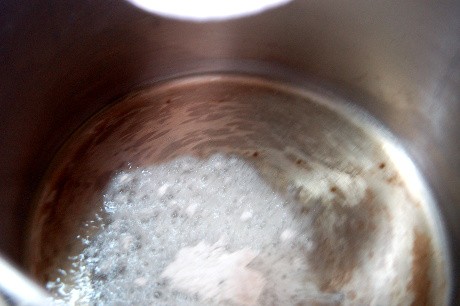 Next add a half cup of all purpose flour (again there are heart healthy ways) and stir, getting out all the lumps.  Stir until it's velvety smooth.
Now comes the tricky part.  Don't leave the pot!  You must hang with a roux, stirring and keeping a close eye on it so it does not brown too quickly.  There is a fine line between just right and burnt!  If you find it's cooking too fast, remove the pot from the heat for a couple minutes and proceed again.
This is how it looks after about 10 minutes of cooking.

After about 20 minutes.

After more than 30 minutes, the roux looks like rich chocolate.  That is what you're aiming for.  And it has a nice brown, nutty aroma.

To this we add one large or two small onions chopped.  The indian women say that the onions stop the browning of the roux, so make sure it is the dark color you want before adding the onions.

After the onions look like this, it's time to . . .

add the chopped celery, bell pepper, and garlic (about 3 cloves).  Saute` for about 10 more minutes.

Now it's time to add the shrimp,
and cook until they look like this and all the contents seem to blend together.

Add about 2 cups of shrimp stock and stir, checking thickness.  It should not be quite as thick as gravy but thicker than soup. If you want more seafood flavor, add more stock than water.  Now add hot water from your kettle to continue reaching the desired consistency.   Taste.  Season with salt, pepper, cayenne, or a Cajun seasoning mixture of your choice.
Simmer on low for another half hour, letting all the flavors blend.
And enjoy!
We eat ours with a side of plain, creamy potato salad made with red potatoes, boiled eggs, mayo, a little mustard, salt and pepper.  Talk about good!
INGREDIENTS:
2 pounds shrimp, cleaned
1/2 cup oil   1/2 cup flour
2 onions chopped, 4 stalks celery, 1 bell pepper, 3 cloves garlic
Seafood stock, hot water, Cajun seasonings
Makes about 8 big servings
Let's see if we can stir up a little debate here on how to make shrimp stew!  LOL!
BW