Sleuthing, Hunting, Cooking
It's been a busy week, and I've been involved in a wide variety of things, so I thought I would share a couple photos with you.  By the way, I'm still trying to sell my alligator article called "Hunt for Hide", and if I can't sell it, then you will get to read it here, exclusively, FOR FREE!!!!
But for now . . . .
SLEUTHING . . .
The trip to Grand Isle was not quite as eerie as the last time I went.  Since I was on a different mission this trip, I did not get to do as much sleuthing.  However, I still had to sneak around to get a few photos . . .
There weren't nearly as many tents . . . nor were there any lights like before . . .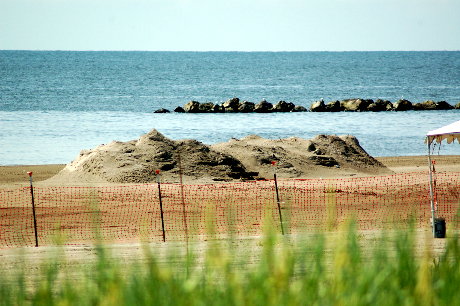 Then there were these piles of sand all up and down the beach BUT NO WORKERS in sight.  Hmmm.  Makes me wonder if all that hustle and bustle cleanup activity was solely for the concert that was happening the week after my other report?  Now that all the BIG DOGS have come and gone, there's no need for the hustle and bustle . . . . hmmmm.
HUNTING . . .
Next day, back down on the bayou, was the first day of Alligator Season.  For the first time in a couple of years, alligator tags were issued.  Even though the price is only a measly $20 a foot, lease holders must take the tags, hunt the gators, sell them to the buyer and at least hope they can pay their expenses.  Remember, alligator hunting was once the way the Bayou People earned their fall income.
I was hanging around the marina hoping for a photo op when the Swamp Dweller came long, still dressed in his "day job" uniform and said his older brother was out there with a big gator and needed help getting it in the boat.
So, I hopped in the boat and across the lake and up to the swamp we went.  Oh my goodness, it is so beautiful this time of year.  Those of you who have taken my tour will recognize some of these places.
It took the strength of both of these men to land this ten footer.  This attempt failed, so I had to put down my camera, hold the boats together so they could both get in one boat and pull together.  Heave ho!!!
One by one, Swamp Dweller hauled the gators from his brother's boat into ours so we could save him a trip back to the landing, where they will be sold "whole".
And we're off to the selling dock with a boat load of gators and it's barely lunch hour!
COOKING . . .
With the August shrimp season in full swing, we bought about 25 pounds off a neighbor's boat today.  The Captain broke the heads, I put them in freezer containers, and left out a mess to boil with potatoes and onions and seasonings.  I don't know what dispersant tastes like, but all I tasted was pure shrimpy goodness!  So, don't be afraid to eat Louisiana seafood.  We all ate it and we are still fine many hours later!
More about alligator hunt coming next . . .
BW