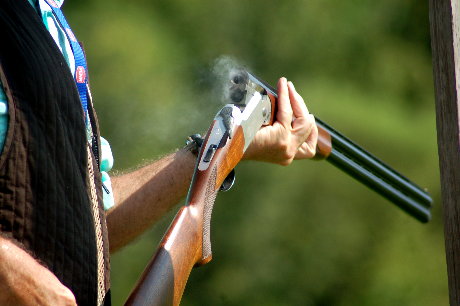 Drawing a parallel
Ok, so, learning how 5 Stand works was not all I was doing Saturday morning.  I was honing my own shooting skills.  Every time one of those guys cracked the barrel to eject the spent shells, smoke curled out of the barrel.  I thought it was just the coolest thing ever, so the challenge was on to see if I could capture some of that curling smoke.
First challenge:  It was bright daylight, and I could not see the smoke in my view finder.  I would have to shoot "blind".
Second challenge:  This happens so quickly that I would have to time the shutter release at exactly the right second in order to capture the smoke. Just like shooting a flying clay, I would have to "lead" the shot.
And just like a sporting clay will not stop for the shooter, none of these shooters "posed" for me, either.  I just wanted to clarify that.  I doubt they even realized what I was doing.
Even though I didn't have the fortitude to take the sporting clay challenge, I was so busy with my own little private challenge that it didn't matter to me at all.  Once I got home and uploaded the pics to my computer, I was excited to see that some of them did actually capture the smoke.
To that I say "DEAD ON"!  Or whatever it is they say when they hit the target.  It's not "bulls eye", either.