I had a potential charter for Saturday morning that never materialized, but with conditions prime, this was the morning to cast care to the wind and go for it.
Equipped with a fast boat, two rods, a couple extra plastic baits, and bottled water, I headed out to Lake Decade before daylight in anticipation that this would be the day.
My special spot was waiting for my arrival, just before the sun peaked over the trees.  Hoping the trout were there, I wondered when they would be ready for breakfast.  All I could do was cast and see what happened.
It took a little trolling around, and a dozen or so preliminary casts, but by the time the sun shone fully on the lake, the trout were awake and feeding.
Off in the distance a clump of boats, bunched together, jockeyed for perfect position for trout catching.  I have this theory, though, that most fishermen are like sheep.  They rush to the lake, without a game plan, and once there, look around to see where the most boats are congregated.  Figuring that is where the trout are holed up, they head there with full force, and the competition for casting space is on.
Not me.   A couple honey holes have revealed themselves to me over years of fishing this lake and have consistently yielded fish when conditions were right.  One has only to learn to read a lake and look for the fishy water. Additionally, those ideal conditions make the difference between a good day fishing and a great day catching!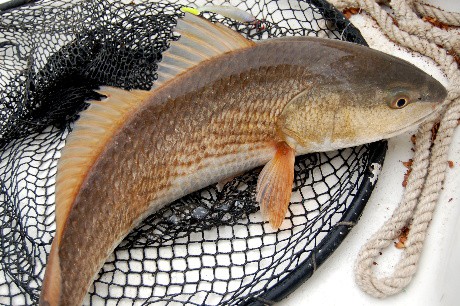 Typically, speckled trout and reds roam the same waters, competing for food; and while some people target reds, they were by-catch for me on this trip.  Unless I have plans to grill a fresh red the day of the catch, I usually give them away to road-side fisherfolks who look like they could use a fish or two.  Other times, they get tagged and released.
After a nice round of catching, I took a little break from the action and thought about my readers, wishing you could experience the magnificence of the morning  In so doing, I lost track of the fish.  Shortly, an older gentleman, also fishing solo, trolled closer and closer to my little area.  Before long, he found the fish and began reeling them in every other cast.
Not wanting to intrude on his good fortune, and since I already had a box full of trout, I nonchalantly cast on the perimeter of the hot spot. After my four nonproductive casts, he hollered at me,
"Hey what you fishing with?"
"A Blue Moon" I answered.
"Oh, you need to be fishing with a glow and chartreuse–anything that looks like a shrimp."
Humoring him, and not wanting to refute his advice, I fumbled around in the on-board tackle box looking for a glow bait.  When I looked up, he was trolling over to me, a package of baits in his hand.
"Here.  This is what you need.  I been picking off fish along the bank since daylight, and the bite just now turned on!  That bait works good because it's impregnated with garlic and it has great tail action!"
I thanked him, told him I'd also been there since daylight, and promptly slipped one of his baits on my hook.  A few casts later, the wind changed and the bite shut down.
He didn't bother to ask me if I had caught anything.  If I had opened my box and shown him a limit of trout and one big red, I wonder if he would have asked for his baits back?  He was a nice man who was willing to help a gal out and share his favorite baits.  I was very appreciative, and therefore decided against showing him how well my Blue Moon had served me.
With the first limit of the Decade fall season under my belt, I felt on top of the world–almost euphoric.  As I pulled up the trolling motor and waved goodbye to my new fishing friend, a growing group of "sheeple" boats continued their trolling dance for those speckled yellow mouths.  I just idled around them, smiled and waved as I left them to their trolling ballet!
Most of these trout had empty stomachs, indicating that they were indeed very hungry and that I had hit them at just the right time.
One of them had  in its belly a shrimp so fresh I could have sworn it was still alive when it fell out of the stomach, its rostrum pricking my finger.
The filleted fruits of my labor, piled high, remind me what a wonderful life we live on the bayou, with an abundance of marine life just a short boat ride away.  Trout fillets like this are hard to beat when it comes to a versatile fish.  They are good pan seared, fried, baked, broiled, and grilled.
There's just something so mind-clearing and invigorating about a gorgeous, productive morning of fishing and catching.  If you haven't been bitten by the fishing bug, I feel kind of sorry for you.  There's just nothing else quite like it.