Spring Brings "BB", Birds, & Blooms
Seasons are real.  We have four a year.  Everyone knows it, though no one really notices exactly when the seasons change.  But honey, I promise you, I don't care what the calendar says, last weekend marked the end of winter and the arrival of spring on Bayou DuLarge.  Honestly, winter came to a screeching halt, the Ides of March took over, we had a drizzle of rain, and then EVERYTHING started blooming.
Folks have gone from winter colds to spring pollen allergies in a matter of hours.  The wild blackberries are in bloom.  The pear trees are full of white flowers.  It's just absolutely amazing.  And before the dreaded DST kicked in, it was daylight here by 5:45 a.m., making it much easier to get up and get the boys on the bus by 6:25.
And with spring came my good friend, BB.  Since she lives on the coast of Mississippi, all her plants suffered from the two hard freezes we had here this year.  And since she helped me plant the beautiful flower beds and pots last year at Camp DuLarge, she came back to help me repair the damage.
Things were looking very bleak–almost stark naked.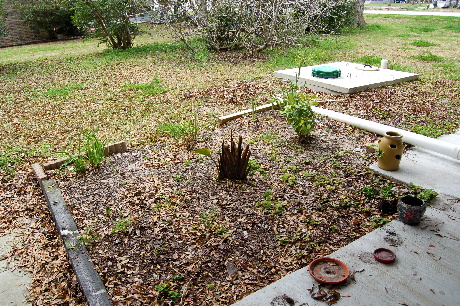 So we gave the old flowerbeds a face lift.  We added some soil, a few new plants, and some pine mulch.  BB insisted on the "knockout roses", and I can't wait to see how they do.  My daddy grew roses, so this brings back fragrant memories of cut roses in the house . . .
Does anyone know where the name "knockout" comes from?
We repotted all the aloevera plants she gave me last year . . . some were pot-bound and some were ill from almost freezing.  But if anything had one little sign of life, BB insisted on saving it.  She has an amazing green thumb and a wonderful outlook on life and gardening.  She really inspired me, not to mention worked circles around me.
We replaced all the dead annuals on the deck.  I'm hoping my beautiful Cajun Hibiscus comes back.  I had to cut it back before the hard freeze, and it's looking very sad right now.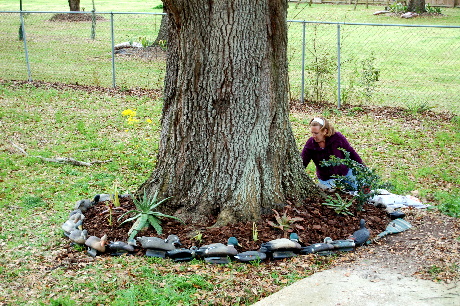 She expanded her gardening expertise this year to include beautifying underneath/around the old oak tree.  We needed something to hold the soil and mulch in place, and I sure hope Termite doesn't mind that we used his duck decoys as a border!
The second morning, I took her on a little joy ride . . .
to show her the new nature trail and . . .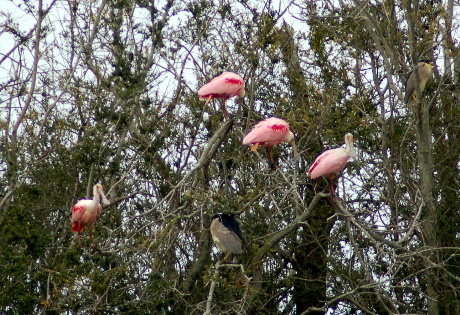 to see some very beautiful birds.  I know you see the roseate spoonbills in the tree, but do you see and can you identify the other two that are sort of hiding out?
On the way home, I spied this little bit of blue heaven.  I'm so confused now about the spring migration.  It's too early.  Why was this little one here already?  Did he stay here all winter?  Did he forgo the trip south?  Kim, do you have a clue about this oddity?  Oh, it's an Indigo Bunting, by the way.
We finished potting plants, raked leaves, hauled leaves, and mowed the grass.  Camp Dularge looks so good right now.  Thanks to her energetic contribution!
BB and I had a wonderful girlfriend two days of hard work, which she calls loads of fun.  I gave her a parting gift box of jelly and preserves I'd made, and you would have thought I had given her a box of gold.  She expressed a desire to learn to make jellies and jams, and that is one of the things that is on the list of things to do during a Becoming a Bayou Woman getaway.  BB said "sign me up, honey!"
So, ladies, when will we have our first one, and who will come?
Springing forth,
BW