Swamp People Make Appearance
My very special son (because all my kids are special) has been counting the days since the ad came out in the paper saying that two of the popular History Channel series, Swamp People, would be signing autographs at a local motorcycle shop in nearby Houma.
Saturday was the big day, and when we got there, it didn't take long for Miah to spot one of his two favorite Swamp People – Trapper Joe, walking through the parking lot.
A local band, which The Captain played with years ago, was setting up and when they saw us, came over to say hello.  When they thanked us for coming out to see them, I couldn't let it go.  "Sorry guys, we're not here to see you today.  You've been upstaged by the Swamp People!"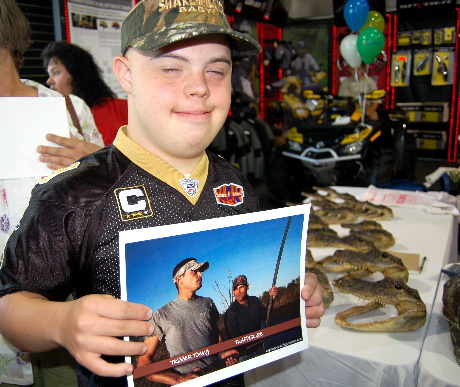 Once inside, Miah and I got in line for him to buy a photo of them.  I tried to get him to buy a T-shirt, too, but he had to have a visor just like his new hero, Trigger Tommy.  (See both visors in photo above!)
Talk about make a teenager happy.  Those were two of the nicest guys!  The reason they are so special, is because they are from our bayou, even though they hunt alligators in another area.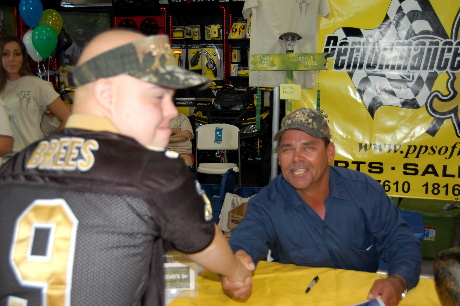 I'm really glad to see that the Swamp People are getting some profits from the merchandising.  It would be a shame for these guys to be exploited for nothing in return.  They truly are hard-working wetlanders.
Everyone has their own opinions about the show.  I say just watch it for entertainment, and you might lose yourself in the accents, the action, and the possibilities of learning something new.
And lastly, just remember that you read about Swamp Dwellers here and alligator hunting here before you ever watched an episode of Swamp People.  These episodes are bringing more attention to the wetlands of Louisiana and her people.  That has to be a good thing!
You can catch the show on Thursday nights on the History Channel.  At 7 p.m. central is a rerun of the previous week's episode, followed at 8 p.m. with a new one.
And now one of the hunters, Troy, has a woman shooter!
Go girl power!  Go Lizabet!!!  (Nope, that is not a typo.  There is no "th" blend in the French language.  Don't you know dat?)
Next on Miah's agenda is to meet R.J. and J.Paul, from Houma, and get their photo and autographs.
Waiting on the water,
(Where did it all go?)
BW