Well, friends, it's that time of year again.  The time when I was too lazy to bake these pies for Thanksgiving.  The time when I was too tired to bake them for our extended family Christmas last weekend.  The time when if I'm going to get them baked before Christmas, I better do it today.  The boys, as you know, are at Disney with Dotter, MuzicMan and Danno.  What better time, right?
LilSis made her own sweet potato pies for Thanksgiving, though I neither saw nor tasted one.  She said they turned out good.  Or is it well?
Regardless, this recipe is a Houma Indian recipe taught to me by one of my sisters-in-law; well, actually the only one who bakes them.  This is about the only kind of pie I've ever seen my Native American kinfolk bake or eat.  Is that strange?
Right about now, BigSis, LilSis, and others are hoping I am going to post the recipe; which I thought long and hard about doing while I was baking all afternoon.
First, it takes about four hours of time.  Then you add a strong back.  Next, add two strong arms and wrists. Be sure and sprinkle a whole lotta love throughout, because that must be why I continue to break my back making these pies for my family.
I went back and read last year's post about these pies, and all I did was sort of whet your appetite for them, I think.  Maybe I'll go a little further this year.  Tell you what I'll do.  I'll post the photos I took, and then I'll think some more about posting a recipe, depending on how much request there might be for a good sweet potato pie recipe!!!
The crust is not your typical pie crust.
This one is more cake-like, though it is made from scratch and not from a boxed cake mix at all.  This dough is made from flour, sugar, butter, vanilla, baking powder, and evaporated milk.  The only ingredient left out is the secret one!
Flour your surface.  Mine is an old table cloth.  Flour your favorite rolling pin.  Mine belonged to my Great Grandmother.  Roll out the dough into a nice circle, and then carefully transfer from the cloth to the pie pan.
Oh, the sweet potatoes.  I forgot!  I used about eight large sweet potatoes.  My Houma Indian teachers peeled, chunked, and boiled them.  I bake them for a richer color, and smoother texture.  Also, it's easier on the hands than peeling and they aren't quite as runny as boiled.  I learned the right baking combination:  450 degrees for about 50 minutes.  Watch them, though, so they don't over bake and get too dry.

I mash them in a large bowl with real butter, sugar, vanilla, and a secret ingredient.  If you like, you may add nutmeg or cinnamon, but I don't!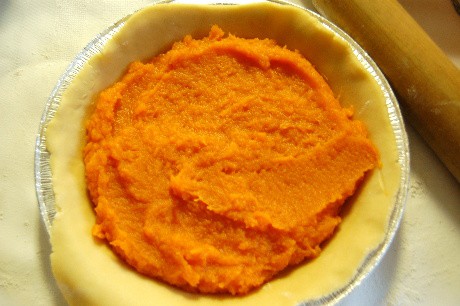 Carefully transfer the pie crust from the cloth to the pie pan and fill with two large spoonfuls of the sweet potatoes.
Next, roll out the top crust, which will be thinner than the bottom crust and more fragile.  Carefully slide it onto the top of the pie.
Using a sharp knife, that you've floured, trim the excess crust from the edges of the pie pan.  Using a fork, press together the edges and then poke a series of holes in the top of the crust.  This allows steam from the potatoes to escape during baking.
After making 4 pies, I used the remaining dough to make 4-5 mini pies.  My Native American teachers call them "turnovers", which you all know comes from the action a "fried pie" makes in the boiling grease, right?  These don't actually turn over, so I just call them mini pies.  No matter what you call them, they still melt in your mouth!
This is all the sweet potato filling there was left–one big spoonful.  There was zero dough left.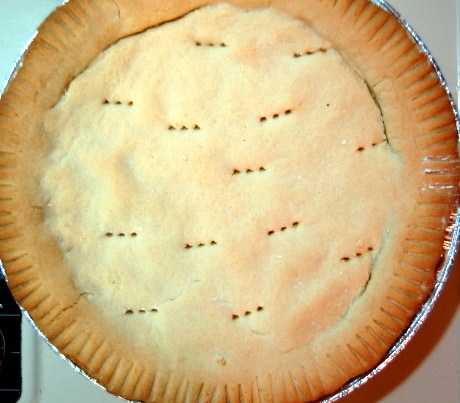 About 35 minutes in a 350 degree oven later, this is what you will have!
This is how a mini pie looks!  Isn't it cute?
Four pies isn't really enough to go around; but these days, that's about all my back can take.  This is actually harder on the back than fishing all day!  Maybe I'll go fishing tomorrow to make my back feel better!  Do you think that will work?
Try not to drool over the pics too much, okay?
Your Holiday Baker,
B
W