Happy Thanksgiving, one and all!
The Captain does not eat turkey.  The Captain does not eat dressing.  The Captain's favorite Thanksgiving meal is this . . .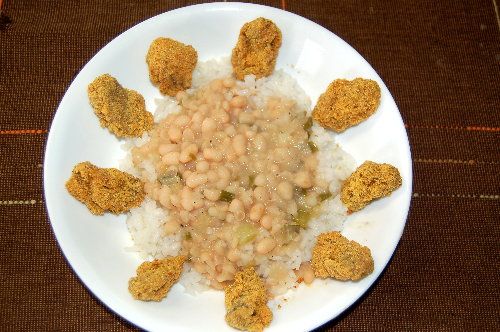 White beans, rice, and fried oysters.  No matter what else BigSis and I prepared, I prepared this separately for him.  I'm not really sure if he knew how much trouble it was, but now I just prepare this for him on a separate day to save myself some trouble!
An Invitation
I sneaked a little challenge in on the previous post's comment page, and a few of the readers took time out during their busy holiday activities to share their stories about a favorite holiday dish.  If you backtrack, I'm sorry, but you won't see the comments, because I have removed them.  I would like to share those stories here, which have been edited for length and clarity.  Enjoy!
Entry 1 – The Widower Brings a Dish
Thanksgiving of 1979, the first holiday after my mom's death, my mother-in-law invited my dad for lunch, and he insisted on bringing a dish. He looked through cookbooks and prepared a green bean casserole we have been cooking since then. It's a bit expensive to make, not healthy, BUT it tastes great! The recipe calls for 4 cans of beans, mushroom soup, sour cream, Velveeta cheese and crushed saltine crackers. We double it, because everyone comes back for leftovers.  My dad prepared it that one time. Then I cooked it till my eldest son married in 1997. This dish is my eldest son's favorite dish of the holidays, so I then passed the recipe to my daughter-in-law.   She has the honor of fixing it now.
Entry 2 – Grandmother's Bread Pudding
Our T-day dish is bread pudding. My husband's grandmother introduced me to it the weekend we were married in 1967! Then his mom showed me how to make it. Now that his grandmother and mom are no longer with us, I try to make it every year for my husband and family. Until my father-in-law passed away 2 years ago, I always took him enough to last for a few days. He & my husband like to eat it cold. They would cut a square and walk thru to their recliners to finish it off while watching TV.
Entry 3 – Happy Birthday Pecan Pies!
There are lots of holiday food stories but "THE" Holiday food at my house is the Pecan Pies.  Every year since she was a very little girl, for Thanksgiving and Christmas my Sister makes pecan pies. AND if you ain't company you better find something else for desert unless Sis brings two pies.  Here's why:
When my Sister and I were kids, we never had birthday cakes, we just didn't have sweets, but for our birthdays we always got what we asked for. Pecan Pie! Why? Because my Dad always paid us to ask for it!  That was his favorite, and when they were newlyweds, my mother, (who's mother–my Grandma–made the world's best pecan pie) tried to make one and it didn't set and was runny.  She was young and trying so hard to please Pop, and it really mattered to her.
He walked in, she was near tears. Knowing he needed to say or do something and no matter what…… it wouldn't be right, he picked up a big spoon full and ate it, looked at Mom and said, "Ya know if ya keep trying Honey I think you'll someday get where you can make these as good as your mother". Mom saw no levity in his attempt at humor. She passed away two years ago now, and that was the first and last pecan pie she ever made for him.  It's still a standing family joke.
Entry 4 – Thanksgiving Day Smorgasboard for One!
I guess to a lot of folks, Thanksgiving is mostly about the food, and while I certainly enjoy chowing down on some of my favorite dishes, it always seems to be more about the people I'm with. And since I wasn't spending this particular T-Day with others, it actually did become about the food for me. And well, you asked us to write about food, so here goes.
Now don't get me wrong, I certainly do enjoy turkey or ham or prime rib or duck or venison or lamb or whatever the main course just happens to be, but the purpose of the main course, in my opinion, is just an excuse to have the side dishes. And so, I made the bold decision to forgo the turkey and stick with the sides. Mashed potatoes with some gravy, or more accurately, gravy with some mashed potatoes. Green bean casserole. Creamed corn. Stuffing with some gravy, or more accurately, gravy with some stuffing. Broccoli. Coleslaw. Baked beans. Macaroni (sans the cheese cause I got some cheese issues). Crescent rolls, dinner rolls and corn bread (cause you can never have too much bread). Jelly beans and popcorn. And of course, butter, which yes I do understand is not technically considered a side dish, but should be. I mean we serve it on a dish, and we put it on the side. So sounds like a side dish to me. And yes, some of these might not be traditional fare, but this wasn't a traditional Thanksgiving and they're my favorites and that's all I wanted, just my favorites.
And did I save room for the traditional pumpkin pie (which unfortunately was not Grandma's)? You bet. Did I have leftovers at midnight? You bet. Did I have leftovers for breakfast? You bet. Am I glad that was my one and only Thanksgiving thus far spent alone? You bet. But did I have a wonderful day? You bet. Am I thankful to have some good friends to share today with? You bet. Happy is the home that shelters a friend? You bet. Do I miss my family today? You bet. Am I excited to kick this day off with a bit of fishing? YOU BET!!!
The Contest
I originally invited them to post a story and I would choose the winner, the prize being an engraved Community Coffee scoop.  I've since changed my mind.  I've removed their names, and I would like you to vote.  In the comment section, please vote by number for the story you like best!  Voting open until Friday afternoon.