The concrete trucks have landed!
This is the first of 4 trucks and about 20 cubic yards that were poured under the house.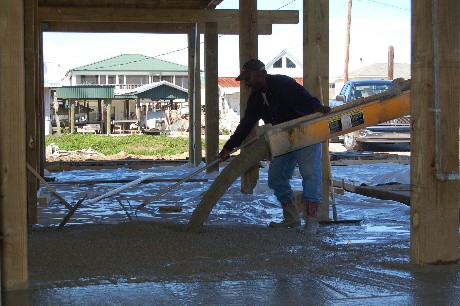 Mr. S directs the chute, as the driver sends concrete down the chute.  As soon as it's on the ground,
Mr. S and his helper use rakes to pull it across the ground to the far side of the foundation.  This was the best way to reach the far side since the truck could not drive around the house.  They have to work quickly.
Next helper number two uses a trowel to blend the edges of the concrete and shape it around the posts, making sure the gaps are filled.
Then he uses this big swiffer looking thing and smooths the surface of the concrete.
Here's what the underneath of the house looked like late this afternoon.
Another 7 cubic yards was poured into the driveway section that was in bad shape.  It looks better, and if I had more funds, I would have done the whole driveway.  That's another huge project!
Here's a view of the front of the house.  Keep in mind that the concrete was just poured and spread at this point and not totally "finished".  When I left them at 7:30 tonight, they were working under the headlights of their truck smoothing it out, texturing it, and putting all the finishing touches on the slab.  I will go back in the morning and take new photos of the progress.
Can't wait to see the finished slab!
BW