The Painted Buntings are here!
Yesterday morning, the power went out, and I found myself out on the porch, bird watching again.  Earlier that morning, I had noticed a drab olive-green bird and thought it might be a painted female bunting.  After validating that in my trusty Sibley Bird Guide, I went to get my camera out of the truck and noticed this little guy sitting in the back yard, not a care in the world . . .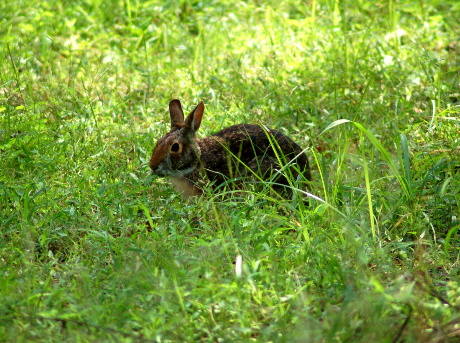 Next, I watched a pair of Inca doves while they grazed among the leaves on the ground, camouflaged perfectly to blend in . . .

The two of them then flew up to the bird bath, which didn't have much water in it.  And yes, that is a small cypress tree in that pot in the middle.  One day, I will put it in the ground.  Notice how small these doves are! They are so cute . . .

If you look them up in a bird book, you learn that you can identify them by the underneath of their wings.  So, I said to them, "Hey, it sure would be nice if I could see the underneath of your wings."  And off they went and struck a pose for me . . .

It was so hard to stop taking pictures of these crazy doves while they struck pose after pose for the camera, but when I looked over at the bird bath, I saw another amazing sight . . .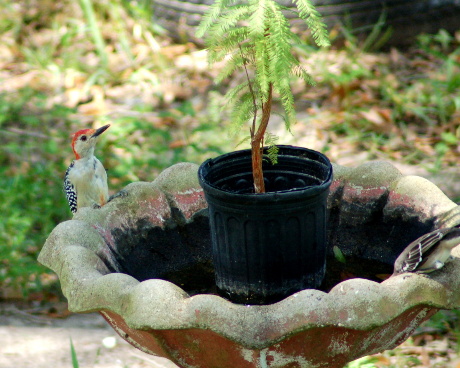 A Red Bellied Woodpecker and Mocking Bird were sharing the bird fountain.  First, Mocker took a drink . . .
and then Pecker took a turn.  They minded their manners so well!
Off in the yard, I noticed how pretty the Saw Palmettos are now and thought you might like to see them.  This is just a few of the many we have around our marshland . . .

The Scarlet Sage is in bright red bloom this time of year, and mine are so pretty.  One tiny Humming Bird thought so, too . . .

And just when I had about given up, something flew by ever-so-quickly and landed in the Blood Weed plants on the property line.  I leaned out over the porch (12 feet up), my zoom lens poised, and there he was . . .
The male Painted Bunting.  The first one we've seen this fall.  I hope they will hang around for a couple of weeks like they did last year before moving on to parts south.
Days like this could almost make me forget that Louisiana's coast is vanishing at a rate of about 25 square miles per year, along with the way of life and culture.  Almost . . . . . well, for a little while at least.  I do love it here.
The Bird Whisperer,
BW