TiDu (tee doo) the Herd Dog!
Once upon a time, there was a little mutt puppy born right before a big hurricane.  Her family had to pack up and leave, and so the little puppy went with them.  When the family returned to their home, it was time for the little puppy to leave her family and go live with a new family.  Her new family loved her and even let her sleep in their bed.  She didn't have to share her covers with the other puppies any more.
Her new family soon got a big red puppy named Butch.  Butch was nice, but he played rough, and most of the time TiDu got hurt.  Butch grew bigger and bigger, and he could jump in the bayou, and swim far, and retrieve things.
But TiDu could not.  Poor TiDu.  Tried as she might, she could not understand commands like "sit" or "fetch" or even the easiest command of all "stay".
At least the hurricane kittens seemed to like her, even though she couldn't understand what their meows meant.
TiDu's favorite thing to do was nap, so she and the kitties got along quite well.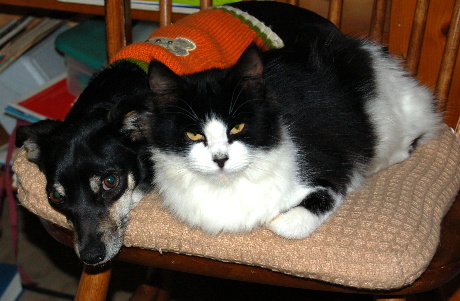 She even shared her chair with Figaro, the last of the hurricane kittens.
Once TiDu had figured out that her sole purpose in life was to act like a cat and take naps all day long, life seemed pretty good  . . . .
until the day . . . .
this thing showed up in her yard!
She growled, "What are you and what do you want here?"
The pig snorted, "I'm a pig and you can call me Pot Likker!  I'm looking for something good to eat."
"Whoa!" shouted TiDu as she ran away from the pig.  "You can't eat me!  I'm just a puppy!  Besides, you smell weird!"
At that moment, TiDu's owner rushed outside clapping her hands and yelling at Pot Likker to shoo and go home.  And then she yelled at her, "CHASE IT, TiDu, CHASE IT!"
And somehow, TiDu knew EXACTLY what that meant!
She ran after that pig, lickety split, like she had been herding swine her whole little life.
Poor Pot Likker tucked tail and ran, squealing, "Wee wee wee!"  all the way home.  TiDu's owner praised her and gave her a treat.
TiDu, proud of herself but tired from her task, jumped on her favorite napping chair, fell sound asleep, and dreamed of being the best cat-loving-pig-herding puppy on the bayou.
Well, folks, I hope you enjoyed this little tale.  I jokingly say that TiDu is short for Ti Dufus because she's not the smartest dog around.  But now, I think it's short for Ti Dutiful!!!!
BW
Comments on this blog will be entered in a drawing for a special Mardi Gras gift set from Community Coffee!