To shoot or not to shoot red fish?
That is the question.
Whether 'tis nobler in the mind to suffer
The barbs and hooks of outrageous treble,
Or to take arms against SB573
And, by opposing, end the insanity. . .
Shakespeare was just about as hard to understand as the reasoning behind Louisiana SB573, which would ban the taking of red drum with bow and arrow.  The sport is called bow fishing, enjoyed in both fresh and salt water by men and women alike.  So why, you might ask, is this such a big deal?
The bill changes the wording of a current law that allows the taking of said gamefish by bow and arrow, as follows:
To amend and reenact R.S. 56:320(A)(2) and (C)(1), relative to methods of taking  freshwater or saltwater fish;  to prohibit the taking of red drum by certain methods;  to prohibit the taking of red drum by using a bow and arrow or by skin divers using certain equipment; and to provide for related matters.
Seems simple enough, right?  Where things start to get sketchy are in false statements made by those who support the ban on taking red fish with arrows.  One of those falsehoods involves blinding the fish.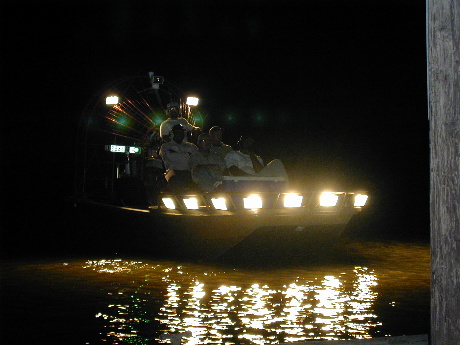 Bow fishing at night is typically done from a shallow draft boat, with lights positioned across the lower front deck, shining down on the water.  The misinformed would have you convinced that when the boat glides near the fish, they freeze "like deer in the headlights".  Such is not the case and is actually not even close.  The reds are not helplessly paralyzed by the lights, nor are they stupefied; rather, they are disturbed by the lights, flee quickly, and the challenge to take the red fish through the turbidity is on.
Another myth that keeps cropping up in this ongoing online debate, is the one about shooting undersized fish.  The legal limit for a small red is sixteen inches.  Do you have any clue how much skill it takes to shoot a legal sized red, much less an undersized one?  Big reds are hard enough to shoot on the run, let alone hitting an accidental small fish.  It's just not done.  In eighteen years of bow fishing, Capt. John Verret has only seen two undersized fish hit, which he says "is like shooting a duck with a BB gun!  It's almost impossible to do."
While it is true that an undersized fish would be returned to the water and hopefully recover from its wound, there is never a guarantee that any undersized game fish caught with rod and reel will recover and not die.
Then there is the fallacy that bow fishing destroys the resource.  There is no validity to this claim, either.  Local red fish ponds are rod and reel fished successfully in the daylight after having been bow fished the night before.  Further, bow fishing makes up only about 2% of the sport fishing in Louisiana.  Any one of those bow fishermen could go out to the same spot with a rod and reel and catch limits of reds in half the time it would take to bow fish them.  Oftentimes, bow fishermen do not limit out while bow fishing due to the challenge of the sport.   We can safely say that bow fishing does not deplete the resource; if anything, it has less of an impact on the resource than traditional pole fishing.

Finally, and my favorite, is the stance stated emphatically over and over by proponents of the bill that they are only protecting the "red drum" in its "gamefish status".  Understandably, giving the coveted reds gamefish status took them from being a "commercial fish" that is no longer bartered, sold, or traded.   However, last time I looked at the Louisiana fishing regulations, bow fishing was considered recreational, not commercial, fishing.
Remember in school, the reasoning questions:  If this, then what?  Let's play that game now.  If you went bow fishing and shot a legal-sized red drum with your bow and arrow, would that change the status of the fish from "game" to "commercial".  If so, then how?  Do you see how utterly ridiculous that is?
One has to wonder why the lawmaker behind this bill continues to claim that the bill is all about "protecting the gamefish status of the red drum".  No matter how you word it, the taking of this fish with bow and arrow does not change its status.  Bow fishing is NOT a commercial means of harvesting any fish.  If it were, the shelves in the fish markets would be nearly empty, because I can tell you from first-hand experience, there ain't nothing easy about it.  So, the proponents get their last leg knocked out from under them on this flimsy argument by deductive reasoning.
Nothing appears as it is in bow fishing.  There is the refractory element of aiming accurately at a fish through the water, which one must instantly account for before letting go the bow string.  Nothing like shooting fish in a barrel, as some would have you believe.
In the same token, nothing is as it appears by those who support SB573.  When asked recently on a live radio show if he had ever been bow fishing, the senator who penned the legislation replied, "No, I have not . . ."
Just as turbid as a red drum makes the water while jetting away from the lights, so do the proponents of SB573 muddy the waters surrounding the real intent and purpose of the bill.  It is the hope of those who enjoy bow fishing responsibly that lawmakers will ask the relevant questions and get crystal clear answers, resulting in non passage of this bill.
This is an interactive blog with an outstanding readership.  Your opinion is welcome.  Please keep it respectful and civil, and I will be glad to respond to your comments, answer your questions, and press the DELETE key as necessary.
BW