Tropical Storm Lee Tuesday Sept. 6 update
It's unbelievably cool early this morning.  It seems like Mother Nature has rewarded us with a blessing of dry, chilly fall weather.  It's pretty amazing.
The feeling of guilt overwhelms me though as I think about the folks in Texas who are still dry as bones and burning up like crisp, dry paper.  I am so sorry for them.
Yesterday led me out to check on some of my friends—both residents and camp owners.  Some of them were mucking out water hyacinth and mud from under their camps; but most of them were relieved that it was not any worse than it was.
Termite's friends who evacuated Saturday evening at the final hour came home yesterday to find the water just up underneath their floor.  Just a couple more inches, and they would not have been sleeping in their little old cypress house last night.  They, too, do not have flood insurance.  I was ready to help them clean up since we have been fortunate enough to be up off the ground now and relieved that they were spared.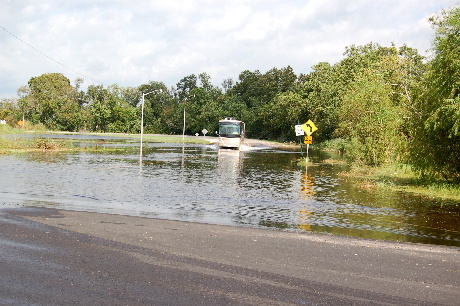 Bare cupboards and an empty frig necessitated a trip to town for some grub yesterday, and I was shocked at what I saw as I crossed the overpass (over the Gulf Intracoastal Waterway):  There was water standing on the road below the overpass and the golf course was completely flooded–on Monday afternoon.
This is not a good sign, my friends.  As a wetland educator, I talk about wetland loss, causes, and solutions often.  I talk about how the marshes have protected the coastal communities for many years.  I relate how the 2005  and 2008 double hurricanes caused about 20 years of combined wetland loss–a loss we could not afford.
And this weekend, for the first time since the flood of 2008, I saw the results, and I took pause.  Actually, I'm not finished taking pause.
As I clean up pecan branches and other storm debris from around Camp Dularge today, my thoughts will be saturated with the ramifications of how much water a little tropical storm named Lee pushed in here; how rapidly it happened, and how easily it came.
You all know that I love it here, and I have already asked myself the hard questions:  If I leave, will all I have done be for naught?  Can I still be a wetland advocate from further inland, or will I just be a sellout?  Can I thrive away from the place I love, where my boat is always just minutes away from the swamp and the marsh?
My book,  Before the Saltwater Came, poses a recurring question throughout the story, "What will you do?"  Little did I know when I wrote and published that story back in 2004, that the book would usher in Hurricanes Katrina and Rita, along with historical flooding.
In the book, the otter takes her family and moves "up the bayou" to find the freshwater of her otter childhood.  I don't require freshwater, but the day is coming when I won't be as strong and resilient as days gone by.  I can't help but wonder if the otter's actions were a foreshadowing of my life some seven or eight years later?
The book ends with the otter asking the reader,
"What will you do?"
Tropical Storm Lee did not cause damage to my property–it stirred my consciousness.  I can't ignore what I witnessed.
I can't ignore the question in my mind . . .
What will I do?
Thoughtfully,
BW