I've been sick for one week.  I have too much to do to be sick.  My energy has been zapped by some huge suction bigger than my life.  Every time I go up to the camp to get something done, my body zones in on the couch, and next thing I know, I'm snoring.  Same thing at home.  Even the shot I got didn't help.
After finally pulling myself out of bed this a.m., I decided to have some tea.  While the kettle was boiling, and while preparing Miah's favorite biscuits, I heard his husky voice, tinged with his thick-tongued accent, behind me,
"Good morning, Mom.  Happy Valentine's Day!"
"Zis is for you!"
"Thank you, Miah.  That's so beautiful!"
I fixed his breakfast and sat down with my cup of tea.  The hot liquid helped soothe my sore throat.  As I sat there staring at the worn tabletop covered in papers needing to be filed, the dogs Butch and TiDu tussled under the table, their fur warm to my feet.
Big sigh.  Where do I start with all that I have to do?  My house is a wreck, and that is no lie.  The boys' clothes need to be sorted, inventoried, and washed in preparation for their trip to Disney next week.  I need to figure out what to do about the concrete slab.  And all I want to do is go back to bed.
I looked up and saw the UPS truck in front of my house.  What in the world?
A black box.  Long and slender.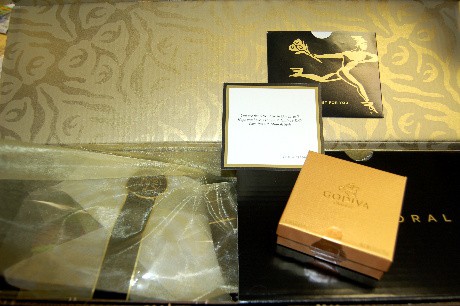 Containing a notecard, Godiva sampler, and flowers.
In the past, fresh flowers would not have been appreciated.  That's right. It's not that  I was ungrateful, it's that frugality reigned supreme–if you're going to spend that much money on a "plant", then buy a fruit tree or something that can be planted and will grow and give back.   I know–not romantic, but practical.  That's just how it was.
But today, I crossed a threshold.  The Captain is out on a boat working.  To get this gift here on this day took a lot of planning on his part.  And for the first time, I can appreciate both the gift and the thought.
And the effort comes at a time when I am having a hard time with recent events.  So with my tea I had one piece of Godiva chocolate, which has never crossed these lips before, and I savored it like I used to do with the Whitman's Sampler chocolates Mother used to give us on Valentine's Day when we were kids.  I let the pleasure wash over me and bring back fond memories of when chocolate really tasted like chocolate but didn't have to come in gold boxes with fancy names.
It reminded me of how Daddy used to talk about going to the corner store and buying a Baby Ruth for a nickel.  I remember paying a dime for the same candy bar.  But today, when I taste those childhood chocolates, they're not the savory sweets of yesterday–more sugar now than darkness.
Today, the richness of the Golden Godiva took me back and reminded me of Daddy telling me, "Remember who you are and where you came from".
Awash with the frustration of being taken advantage of, the worry over how to let go of the lost money,  the fretting over finding a way to get the slab redone correctly, all the while being sick, I have forgotten who I am and where I came from.
Thank you, Captain, for sending me this gift, the memories it sparked, and the reminder I so badly needed.
Maybe I can move forward now at more than a snoring snail's pace.
BW