Walkin to New Orleans . . .
Well, not exactly.  I drove to New Orleans and met up with my oh-so-famous TV-producer friend, who continues to search for funding for her dream documentary about the vanishing wetlands and vanishing culture here.
http://www.youtube.com/watch?v=9_RPFM5PycU
It was a girls' mini- weekend, complete with Friday evening planned by my amazing and handsome oldest son, Daboo, who picked us up curbside from our luxurious hotel.  He took us to a quaint little place on Magazine Street and introduced us to Blueberry Mojito.  Yum!  And then drove us to dinner at the Bon Ton Cafe, downtown.
Saturday morning, Steph and I drove down to The Quarter, where we enjoyed a warm lunch, on a very chilly day at Cafe Amelie on Royal Street.
She had the wonderful gumbo, while I enjoyed
their soul-warming version of Shrimp & Grits.  I know it sounds questionable, but believe me, it is a dish you will appreciate, if you like shrimp, and grits, and corn.  Soon, I will be adding a link here to the article I wrote for Eat Like a Native about this dish.
After our light lunch, we wandered over to The Presbytere on the edge of Jackson Square to visit the "Katrina and Beyond" exhibit.  The first thing that greeted us there was this powerful exhibit of bottles . . .
The ceiling was covered with these hanging bottles, etched, containing notes written by all kinds of folks, I presume.
Above is the explanation of the symbolism of the exhibit.
Then, when we turned around, we were hit with this . . .
the piano belonging to Fats Domino, placed just as it was found in his Ninth Ward home, with some of his music playing in the background.  Moving, very moving.
The whole exhibit was multi-faceted using multi-media forms, and if you take time to read every story, listen to every TV screen broadcast, and avail yourself of all there is, it would probably take about three hours.  We  walked through, quietly, trying not to invade each other's space at each display, as we each dealt with our own memories of this great catastrophe.  Some were wiping tears, while others were clearly holding back.
This was my favorite exhibit.  What look like blank windows, are actually TV screens/monitors that come alive when the exhibit starts.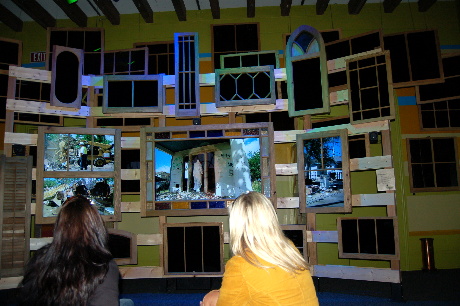 Different images play in the windows for a few seconds, and then there are snippets of interviews done with everyday people, like me, played in the windows about how the hurricanes affected them, and ended on a more positive note of hope for the future of coastal Louisiana.  I could have sat there and watched it three or four times.
We spent the rest of the afternoon walking around and enjoying sights like this wedding party in front of the St. Louis Cathedral
And just look at the getaway car for the bride and groom!  Later, while the wedding was underway, the chimes rang out for a solid five minutes!  And I'm wondering whose drums those are?   And why are they sitting right there?  Only in New Orleans!!
And our final half hour was spent enjoying some local entertainment by a group of break dancers that interacted with the street crowds.  They were hilarious and very talented at break dancing, too!  I think they are called DMS and have been on "America's Got Talent".
So, BW had a nice time in the big city with her good friend, Steph.  She got her pics for the food article.  She relaxed a bit, and got to see her son.  She returned home, wrote her article, caught up with her blog peeps, listened to the rain all night.
What now?
BW