What in tarnation is a chicken tractor?
Chicken tractor conjures up images of a miniature garden vehicle, with Foghorn Leghorn behind the wheel, right?  That's the image I saw in my brain when I read this ad on Face Book:
Chicken Tractor For Sale.  Wife said the chickens had to go.  I will deliver.
And then I saw the photo.
Another name for this little home-made gem would be a portable chicken coop.
The whole idea set BW's mental wheels to spinning, for you see, once upon a time, way down the bayou in South Louisiana, Bayou Woman had laying hens.  She loved those hens, fed those hens, and trained those hens to free range on her marshland and put themselves back in their pen at night.  Every day, each little hen laid a beautiful egg for Bayou Woman and her family in exchange for the loving care they were given.
One day, a big bad storm called a hurricane came along in the Gulf of Mexico, causing BW and her family to evacuate from their home.  Worried about what the flood waters might do to her beloved hens, BW fretted over whether to lock them in the pen, where they would be captive prey for wild animals, or to let them go free and hope they had the good sense to fly up into the tree branches to escape harm's way.
BW finally decided to leave the gate open, so they could come and go as they were accustomed to doing and hoped they would sleep up high in their roost every night until BW returned.  Thankfully, the storm was not a major one, and it only caused light flooding, so that BW and her family were able to return after only a couple nights away.
Even though BW thought her chickens were very, very smart, it turned out they were not so bright after all.  The sad end to that story was that some wild animals (coyotes, perhaps) tore all her chickens to shreds, and she cried (secretly, of course) when she saw the carnage.
Shortly thereafter, a little old lady down another bayou was getting too old to care for her little flock, so she gave them all to BW, who happily took them home and trained them, like the others.  One hen in that flock was different from the others.  Her name was Angel, and she liked to be held.  When the back door of the house was left open, Angel would climb the steps, go inside, eat the crumbs off the kitchen floor, and leave just the way she had come.
There was something else very special about Angel, her eggs looked different from all the other eggs.  But for now, more of the story.
One day, LilSis said her neighbor up in Shreveport had a young Plymouth Rock rooster they wanted to get rid of.  So, the rooster took a ride down the bayou and joined the flock.  He quickly became the hens' protector, doing his job with a vengeance.
He became overprotective, not wanting to let BW go in and get the eggs, so she had to teach him a lesson.  A little old Indian woman had taught BW how she had tamed her mean rooster so that he would not peck at her, even though he was still agressive toward others.  She shared her secret with BW, who had never owned a chicken in her life at that point in time.  Now, BW recalled the lesson and knew it was time to perform the ceremony on Rockie.
BW caught Rockie, and followed Mrs. Mary's instructions, step by step.  When she let Rockie go, he was a changed rooster and never bothered her again.  Such was not the case with The Captain, though.  One day when BW was out of town, The Captain, who HATES chickens, decided (who knows why) to go inside the pen to feed them rather than just throwing the corn over the fence.
Rockie, knowing this male mammal did not belong in the pen, proceeded to peck at The Captain's legs.  Infuriated, the captain found a machete, whacked Rockie, and threw his lifeless body in the bayou to become fodder for the crabs.  Later, he repeated the story, laughing.  At that moment, BW knew just how much he HATED chickens.  Now, the hens were once again defenseless.
Not long after the Rockie masacre, the hens disappeared one by one from the yard as they free ranged.  There was never any sign of distress–no feathers–no signs of struggle.  Because BW was not home everyday, and there was a highway crew resurfacing the road, she figured maybe they were hungry and craving fresh chicken or eggs, and took the hens home to their families.  Then again, maybe the hawks got them?
And that was the end of BW and her laying hens.  She missed the sound of those hens clucking as they rid the yard of pesky bugs and spiders.  The Captain said, emphatically, "NO MORE CHICKENS", which made BW very, very sad.
And then, many years later, she saw the ad for the chicken tractor, bought it, and had it delivered to Camp Dularge.  She knew right away that she wanted to get the same kind of chicken that Angel was and have more of those very special eggs.  It took about a month, but she finally found three full-grown Ameraucana hens for sale in town.  And she did NOT tell The Captain about her newly-acquired treasures.
Meet them now.
Even though their coloring is different, they are all called Ameraucana hens or Easter Egg hens.
This is Petite Rouge, she is the smallest of the three.
This is Gray Girl (which is way too hard to say in French), and she is the most docile of the three.
And this is Goldie aka Bully, for obvious reasons–she is the biggest and at the top of the pecking order.
What is so unique about these colorful hens?
Their eggs.
What is so unique about their eggs?
The colors.
The largest egg belongs to Goldie.  The greenish one was layed by Petite Rouge, and the other by G.G.
I don't want to bore you with any more chicken tales, but if any of you are interested, I have more pics of the chicken tractor, so you can see just how neato it is.
The wheels allow me to move it to a different spot in the backyard every other day.
This is a view from the end, looking toward the nesting box.
And the blurry pole is where they jump up and roost at night.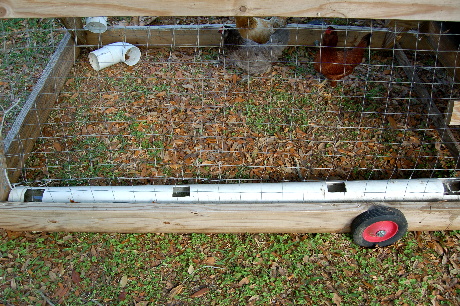 This is a PVC pipe with cutouts that I fill with fresh water for them to drink.  It is attached, so it moves right along with the whole unit.
And then there is . . .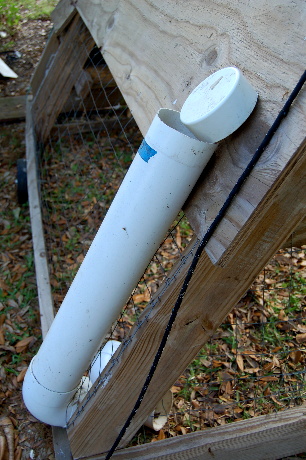 feed pipe attached to the side, which is totally unnecessary, because I can just throw the cracked corn and lay pellets in by hand.  But it is a nifty design, anyway.
The girls have been with me since last Friday, and they have generously given me 13 eggs so far.   They each lay an egg a day, and the reason we are short a few is because one morning I arrived at the camp to find all three of them wandering around the back yard.  They were too wild to catch, so they ranged all day long, and I'm sure they lay their eggs somewhere in the  yard that day.  Termite and I went back after dark that night and found them huddled on top of a six foot ladder, caught them, and put them back in through this handy-dandy door to their nesting box.
Pull the gold bungie chord . . .
and voila . . . EGGS!!!
And thus ends tonight's chicken tale and begins BW's little chicken farm saga.
Happy as a hen in a chicken tractor,
BW 🙂