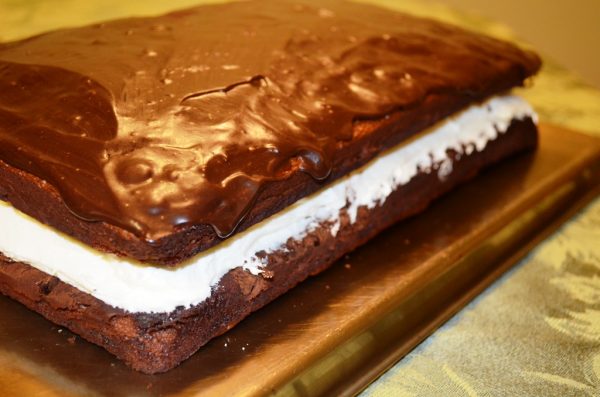 Whoopie Pie Cake. It sounds strange, I know. And of course, there's a back story, but I can't lay claim to having named this sinfully rich dessert concoction. But doesn't it look delicious?
If you've spent any time on this blog, you already know that I've always marched a little out of step with current times, or should I say more like behind step? It's not because I was raised in the sticks of didn't attend school. It's because, for some odd reason, I've always been drawn to the old ways, the ways of maybe my great-grandmother's times. Oh yes, I know I tend to romanticize everything, and I realize pioneers celebrated very little romance because they were too busy growing their own food and surviving by the sweat of their brows; but in spite of that, I've spent a lot of time reading about those times and even learning some of their ways.
Knowing that, it should come as no surprise that in the late 80s, I was drawn to the ways of the Amish and wanted to learn more about them–back in the days when one had to do research at the local library, because *gasp* the Internet and Google had not yet been invented. And then during the summer of 1990, we set off on a family trip to Ludington, Michigan, so my children could see where their maternal grandmother grew up and meet their great-grandmother who arrived here via boat at the ripe age of 14 all the way from Denmark.
Along the way, I insisted that we depart from the beaten path of the US highways and find an Amish community to visit. We ended up in Arthur, Illinois, and I will never forget that detour. We drove around the countryside visiting Amish homes wherein families had set up shops in their dining/living rooms in order to sell their handmade goods to tourists.
We also visited a local park near the town to have a picnic lunch, and we sat and watched horse-drawn buggy after buggy loaded with Amish families arriving to enjoy their own picnics. I don't know why I was so surprised to see big Tupperware bowls of food lining the picnic tables. I guess I thought Tupperware was much too modern for the Amish, but I was wrong.
Eventually our children made their way to play upon a huge old locomotive engine with the Amish children. They weren't friendly, and they appeared not to speak English. I assume they spoke Pennsylvania Dutch, and they shied away from my children because they were considered "English".
But I digress. While venturing along the corn-field-lined back roads, we stumbled upon Yoder's General Store. Ours was the only motor vehicle parked out front, alongside the plain, black horse-drawn carriages of the Amish. I laughed when one Amish woman pulled up, told her horse to "whoa" and hopped out wearing a plain, black dress, black stockings, and Nike tennis shoes. There's a literary word for a combination like that, which eludes me at this moment.
Once inside the store, the July Illinois heat was stifling, and without electricity, the air inside was suffocating. Hanging from the ceiling were little pouches like you see inside a Coleman lantern. I guess they must have been connected to some kind of gas pipe system; but they weren't illuminated, so inside the store was dark and dim.
I immediately noticed the lack of commercial packaging on the items lining the wooden shelves. Pre-packaged items had been removed from their original packaging as indicated by a Zip-loc bag containing those unmistakable orange Circus Peanuts; the price hand-written on the bag. Rolls of paper towels stood there, bare, naked with no brand name showing. Who knew the Amish even used paper towels?
What interested me most were the rows and rows of homemade preserves. I wanted to buy one of everything, but that wasn't feasible seeing as how we were already packed to the hilt for our trip to Michigan, and glass jars have a tendency to break. And then these cute little desserts caught my eye: Whoopie Pies, and I bought them. They were about three inches across, with a top cake and bottom cake made of dark chocolate, and a white creamy filling between the two layers. The kids and I adored them.
Somewhere on that trip, I bought a couple of books, one of which was a cookbook called Amish Cooking, published in 1980; and in that book was a recipe for Whoopie Pies. Needless to say, I baked Whoopie Pies at some point after we bot back; and even though the recipe was quite involved, they tasted good but didn't look nearly as nice as the originals we had purchased.
Fast forward 26 years to last week when Dotter sent me a link to and photo of the "Whoopie Pie Cake" recipe she had found online. I had offered to cook her a birthday supper this past weekend, and she hinted that she might like it very much if I found time to bake this cake. Well, I baked it last Saturday, and it was even more delicious than I remember the original Whoopie Pies being; plus, it was way, way easier.
Even though this is Amish cooking and not Bayou cooking, this cake was just too easy and too delicious to not present to you. Oh yes, it is rich, and a little dab'll do ya, but for a family gathering, it is absolutely perfect.
And for those of you who may be as curious about the Amish as I was, the other books I enjoyed back then were "Living without Electricity" and "Plain and Simple".
So, if you're tired of the same old, same old birthday cake, why not give this one a try? Your family and friends will absolutely be wowed!!!
Whoopie Pie Cake
Print Recipe
Delicious, dark chocolate cake with creamy filling--a variation of Amish Whoopie Pies
Ingredients
1

Devil's food box cake mix

plus 1 extra egg

Cocoa powder for dusting pans
Filling
1

cup

butter - room temp

2

cups

marshmallow cream

3

cups

powdered sugar
Ganache
1/2

cup

heavy whipping cream

1

cup

semi-sweet chocolate chips
Instructions
Cake
Preheat oven to 350°

Grease 2 9x13 sized pans with butter and dust with cocoa powder, set aside.

Prepare cake according to package directions, but add an extra egg to the mix.

Split the batter evenly between the 2 pans and bake for 15-20 minutes until a toothpick comes out clean.

Allow cakes to cool completely.
Filling
In stand mixer beat butter and marshmallow cream together until smooth.

Turn mixer to low and slowly add in powdered sugar.

Turning mixer back up, continue mixing for 30-60 seconds until smooth.

Spread the filling on top of one of the cakes.

Top the filling with the other cake.
Ganache
In small saucepan bring the heavy cream to almost a boil.

Remove from heat and stir in chocolate chips.

Allow to cool for 10 minutes and then pour over top of cake.
Nothing says love like a Whoopie Pie Cake!
BW