Three years ago, a writer friend of mine who works for the Baton Rouge Advocate was pressed for time on a deadline and asked me to help him out.  I wasn't sure I could handle it–I was not a journalist.
At that time, I had written a couple outdoor magazine articles but nothing for a newspaper.  The piece would make up the "Coastal Guide" of the annual pull-out Travel Section of The Advocate one Sunday in April.
Since time was short, I did the interviews by phone and wrote the article as best as I could.  I even submitted a couple of stock fishing photos to go with the article.  The gist of the article was what to do in a small geographical area of the coast near here, focusing mainly on fishing and the businesses that support it.
Evidently, they were pleased, as this is now my third year to write the article.  Last year, Termite and I took a trip down La. 1 south and had a great adventure on a sailboat that opened up new possibilities of activities to include in the 2008 Coastal Guide.
This year, I embarked on the same journey south to see what might cross my path.  You know what I discovered?  I could get used to being an unscripted travel writer, at least for short hops!
Traveling down the ribbon of road that cuts through the salt marshes of Lafourche Parish, the first town springing up from the marsh is Leeville.  And just inside the corporation limits, my eyes were drawn to lots of bright colors atop vehicles.
They were kayaks of all colors.  And not just any kayaks.  They were fishing kayaks.
And one very beautiful, hand-made wooden canoe made by the man who was also . . .
busy cooking a huge cauldron of spicy jambalaya for about 125 people.  And boy did it smell good.
Parked underneath the motel, where this big party was taking place, were dozens more of these candy-colored fishing vessels and just as many men talking up their strategies for the tournament that was to begin the next morning.
This was the gathering place for the sixth annual Paddle Palooza kayak fishing tournament, hosted by Bayou Coast Kayak Fishing Club.
I noticed only one woman, whom I naturally gravitated toward, only to find out she wasn't a participant but the wife of one.  Two questions were on my mind.  Where were all the kayak fisherwomen?  And just how much testosterone is there in a space filled with about 110 men?
It was interesting to watch them interact as I observed their "rules meeting".  Those who were inclined to meet me, (obviously an intruder since, for a change, I wasn't dressed in fishing shirt, hat, and sandals) were very nice.
After a while, the three folks who taught me how to kayak fish in 2006 arrived, making me feel much more welcome.  I decided to hang around and see if this might become part of the article.
D-Wray (on the left) and I were catching up on things when we were interrupted by this man–a kayak fishing groupie.
"Hey, are you D-Wray?  My name's David and it's sure nice to meet you.  A couple years ago my son read an article in the La. Sportsman about you kayak fishing and he just kept hounding me about trying it out.  So we finally did and now we LOVE IT!  So, I just wanted to meet you and say thanks."
D-Wray responded, "Well, you're welcome.  That's good to hear.  And this lady right here is the one who wrote the article!"
All I could think was "what a small world", but what I said was, "Is your son here?  I'd love to meet him."  He was, and I did.  I had to make sure it was my article that inspired him.  I asked him the name of the article, and he said, "Yea, it was 'Cajun Sleigh Ride' by some woman."
Uh, that would be me.
Can you imagine?  The first article I ever wrote for an outdoor magazine, based on my first ever kayak fishing experience, impacted this young man to the point that he just had to try it.  And now, according to David, they hardly use their huge bay boat and smaller bateau for fishing.
It is indeed a small world, and I was genuinely moved by that serendipitous encounter.  I wish I would have had someone take my photo with that young man.  Oh well . . . .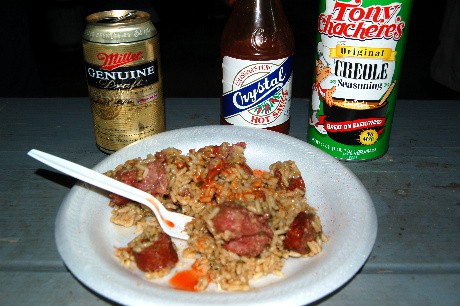 After the meeting, the jambalaya was served up, but it was getting time for me to mosey on down to the next stop where I would be staying the night.
To be continued . . .
PS  I have step-by-step photos of this jambalaya dish if anyone cares to see them!!!