I was so excited about and inspired by the appearance of the great horned owl nesting in the oak tree at Camp Dularge last weekend, that I decided to take photos of the flowers that are still blooming despite temperatures that have dropped close to freezing a couple of times already.
It might even surprise you to know that the annuals were all planted back when my friend, B.B., came down to help me make a flower bed at Camp Dularge back in spring 2010.
So, if your winter is cold, dull, and gray, these photos should bring you some warmth and color.
I hope you enjoy them.
This Knockout Rose is in full bloom, even though it is time for her to be pruned way back.  She has no idea, and I just didn't have the heart to take the pruning shears to her the other day.
This pot should have pansies in it, but these two hangers-on just won't let go of their lives and be replaced by the little flat-faced flowers.
The hardiness of these geraniums Begonias has made me a firm believer that this is definitely a "go-to" old-fashioned flower.  They handle extreme heat, almost any soil condition, and keep coming back for more abuse.
Even the wildflowers are taking their chances with the freezing temps.  This is a little Wood Sorrel that thrives in this pot, alongside the Cajun Hibiscus that has not fared too well since last winter's hard freeze (even though she was cut back).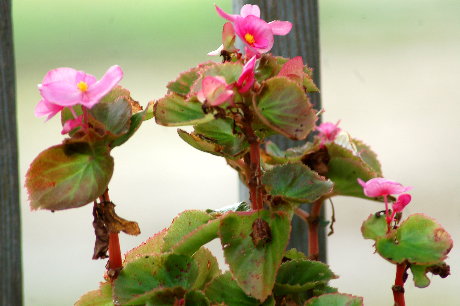 Here's the pink sister of the previous Geranium  Begonia.
And yet some more Geranium Begonia cousins.  I will be buying lots more of these for the flower bed this spring.  Almost can't wait.
Since that was my first real day off the sick bed, I mustered up the energy to dig a nice hole for this beauty.
Her name is Sweet Bay Laurel.  A kind, generous, thoughtful reader felt sorry for me the day I was scrounging leaves from a Camphor Tree (?) in the backyard in hopes that the leaves were of the bay variety.  This most certainly is a bay tree, and BW will no long fear poisoning the stock she  makes when using these scented leaves.  Thank you, Mr. Anonymous!
Winter is indeed upon us, but not by the looks of these lovelies.  I'm sure they won't last much longer, though, so I will enjoy them while they last.
What brightens up your winter days?
BW