Our First Youth Waterfowl Day
It was 4 a.m.  Time to get up, and my youngest son was on his feet instantly.  Everything was ready by the door for Termite's first Youth Waterfowl Day.  The early morning was dark and chilly, still and quiet.  As we loaded the boat, the gear made echoing sounds that bounced around on the camps across the bayou, intruding upon the silence of sleep.
We quietly pushed away from the dock, the engine idling at a purr, small waves rippling to the shore.  As we turned into the main canal, the lights of the local marina illuminated the water unnaturally, competing with the stars overhead.  There were so many, it seemed you could jump from one to the other without falling.
As we left the last man-made light behind, the battery-powered lantern periodically showed us the shore line and objects floating in our path.  A spotlight would have been perfect for this chore, but when Termite unplugged it from the charger right before we left, it was still "dead" and devoid of giving any light.  We continued at an idle for a bit–our eyes adjusting to the ambient starlight.
For the third time, the little lantern was called upon to show us the way.  It wasn't until the fourth time we turned it on that it's light began to fade, fade to nothing.  Our night vision allowed us to make out the shoreline, but not objects floating in front of us.  And being the responsible one, I made Termite turn the boat around and go back home.  Super Mom just became the Villain Mom.  We pulled out a flashlight to help us make our way back for about two minutes and again, darkness.  Another dead flashlight.
Termite informed me we had extra batteries, which I promptly changed.  This must have been one of those el cheapo flashlights, because when I opened it, the gasket, lens, and bulb all fell out and would NOT, I repeat, would NOT go back into place.  Another totally dead and useless light.
Back at home, I worked with the flashlight trying to get the batteries in, when Termite realized the lantern also used the same sized batteries.  And when he went to open it, he realized it had not been closed all the way.  Once closed tightly, it worked just fine.  We grabbed spare batteries and off we went.
It was 4:55 a.m., and we'd lost half an hour.
Could we make it to the duck lease, through the gate, through all the twists and turns in the marsh  and get into the duck blind before 5:46–a half hour before the legal shooting time?
The gate at the lease had to be unlocked with a key.  It was a precarious operation, to say the least, especially when operating a boat that does not have reverse and the tide is falling, pushing you away from the gate.  And if that seems tricky, try turning yourself  around in a small space and closing the same gate behind your boat and locking it, with the falling tide pushing you back through the gate.
Hurricane Ike had damaged the gate, and although Termite and I had hammered the boards in pretty well days before, the gate fell completely off its hinges and into the water.  There was nothing I could do but watch it sink.  Great.  Now I would have to report this little incident to the veteran hunters.   Not something I would look forward to doing.
Navigating to the lease was phase one, and pretty easy–a wide canal between two banks.  Once in the marsh,  Termite's sense of direction and memory of what each point and turn should look like was crucial.  Further, the water was only inches deep, and a couple feet wrong in either direction could have put us aground.
My job was to shine the light on the shorelines so he could identify the points and turns, which I did not do so well.  The glow of orange eyes along the banks kept distracting me.  I let the lantern light linger on them rather than pointing ahead showing Termite's course.  We saw at least a dozen pair of eyes watching us as we glided past–alligators lying in wait for unsuspecting prey.
He got us right to the duck blind without one error–not one shallow spot, not one wrong turn.  For a 12-year-old boy who has only been out there a half dozen times, he did a fantastic job.
Termite ran us up on the edge of the grassy mound and climbed out, quickly putting my chair in the blind.
He decided he would sit out in the boat and hunt, letting me take photos from inside the roseau- covered blind.
Once inside the blind, I realized there was no way we could both fit in there–unless I had ear plugs and ear muffs to shield me from the sound of gunfire.
After I sat in my chair, I began to think about how that blind hadn't been used in a year.  Afraid to even glance around, my mind began to race with the possibility of all the creatures that could be sheltered there with me.
The blind was a little island of roseau cane–just a spit of land about the size of a pallet.  And there I sat, on that little pallet hoping I was the only creature doing so.
But we had made it.  It was 5:50, and he could legally shoot any ducks that flew by or landed in his pond at this time.
Termite formed a dark silhouette against the morning skyline as he watched intently for any sign of ducks, the decoys bobbing in the shallows beyond.
He sat still and quiet, like a statue, surrounded by the early morning sounds of the marsh, waiting for the ducks to land in the pond.  And then I heard it.
It sounded like the quack of a sick duck.  It didn't sound like any one of the half dozen duck calls Termite has been wearing around his neck on an LSU-colored lanyard and blowing at full capacity for the past six months.  Rather, the sound was coming from his throat–a guttural but quick repetitive quack-quack-quack-quack-quack.
If we had not been in stealth mode, I would have blown that boy out of that boat with a voice like the Big Bad Wolf blowing down the house of straw with this refrain, "ARE YOU KIDDING ME?  YOU'VE GOT TO BE KIDDING ME!  YOU'RE KIDDING ME, RIGHT?"
He can blow the come-back call.  He knows the hail call.  He's mastered the greeting call, feeding call, teal call, and every other call you can think of.  I've heard them all at least a million times each over the past six months, and so has anyone within earshot.
Yet there he was.  The morning he's been practicing for, and Termite had forgotten his duck calls at home.  Now, that was just sad.  I was torn between disbelief at his childish forgetfulness and awe of his manliness that got us here in the dark.  Must be tough to be twelve years old.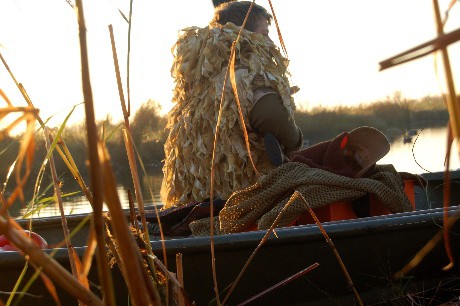 Termite was styling, though, in something called a "shaggy".  Some ingenious person sewed scraps of camouflaged fabric to a decoy bag that then goes over your clothing and  makes you blend with the marsh grasses.  Pretty amazing.
As the time crept by, and the horizon turned a pale shade of pink, the wading birds flew over chatting about the day they had planned.  In the marsh grass, sounds of gallinules calling to one another over breakfast could be heard.  And off in the distance, a loan duck called from a nearby pond.  I knew Termite was wishing he were over in the next pond, but he held fast.
Don't let anyone tell you that a very active twelve-year-old boy can't sit still for hours–and I mean stock still.  That is what he did waiting for the chance to draw a bead on the prey of choice.  As the morning drew on, and it was apparent the ducks would not appear, Termite took a few gallinules for the pot.
It is a well known fact that boys really want to shoot something on their first hunts.  It's understandable.  We do not, however, condone senseless killing.  It is the way of the Houma Indians that nothing is wasted.  This is a virtue that should be passed to every young hunter–no matter the ethnic background.  A living thing should only take life to sustain life or protect it.
After a couple of hours at the little island blind, Termite asked if we could change locations.  Sure.  What did I have better to do than be with this boy in this moment?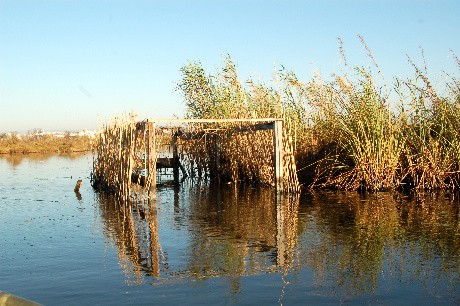 We motored into the second blind, one that accommodates a boat, and waited, Termite watching the sky like a hawk.
When he finally decided to give up the hunt, no sooner had he unloaded his gun and laid it down, than a pair of ducks flew past within shooting range–the first pair of the day.
They were there, and then they were gone.  He missed his chance.
Determined not to miss out, he reloaded his gun and asked if we could stay longer in hopes of seeing them again.
After another non-productive half hour, he again lay down his gun as another pair of ducks flew past within shooting range.  Once again, he missed his chance.
Regretful, though not dejected, he turned to me, head down.  I expected a very childish comment laced with woe, but what came out of his mouth was,
"Mom, thanks so much for coming out here with me today"–disappointed that he missed his chance at two pair of ducks but thankful that he was there to begin with.
Boy to man.
Necessary items were forgotten.  Equipment malfunctioned.  Opportunities were missed.
Nevertheless, indelible memories were made on this, our first Youth   Waterfowl hunt together.
I am not a hunter.  I would much rather shoot photographs and eat vegetables.  But we are not cookie-cutter images– neither outwardly, nor inwardly.  We are individuals, and as such we must respect our differences.
Advocating hunting or indoctrinating my readers into something they don't embrace is not my goal here.  Recognizing that hunting is one more facet of the winter way of life for Bayou People is all I purport.
One day, he may no longer be so driven by the desire to hunt; and then again, his family's survival may one day depend on it.
For me, this hunt brought the realization that my last child is making his right of passage to manhood.  He soon will not be the little boy with long, blond curls and a lisp who shamelessly crawled on my lap to hug me.
He is a bayou boy through and through.  And if I had to choose whether he ran the streets or explored the marshes and bayous?
Well, I think we all know the answer to that.
BW