A marvelous bird is the pelican . . .
. . . his beak can hold more than his belly can!
He can hold in his beak enough food for a week,
But I do wish I knew how the hell he can.
I learned this from my daddy when I was a child.  I'm not sure where it originated, but since he was a good Christian man, I'd never heard the second stanza.  Now that I think about it,  I never in my whole life heard my him say one "ugly" word–not even Hell.
The brown pelican is our state bird, and this one was finally glad to pose for me.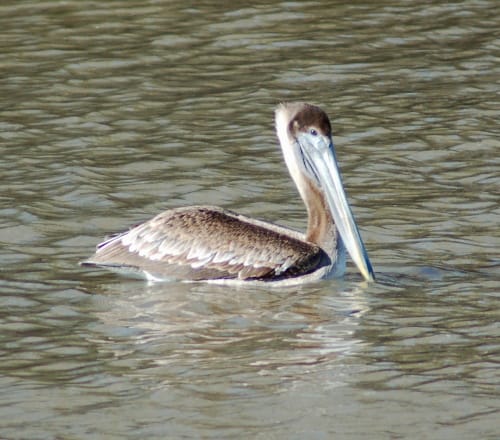 I have been trying to photograph this pelican in the bayou for over a week, but every time I walked toward the bank, it flew away. So I had to resort to shooting from my vehicle, and forgot one of the basic rules of using a zoom – STEADY STEADY STEADY. I was in such a hurry to get a few shots, that I failed to rest my arm on something steady.  So, I apologize for the poor photo quality.
From the archives.  Originally posted 1/21/2008.  Edited today.
Busy busy busy with Camp Dularge.  Hope to have photos soon!!!
BW