Bayou Petite Caillou, Blessing of the Fleet
You can read all about the traditions of the boat blessing here.
Down the bayou, this applies mainly to shrimp boats, but you will see families riding in their crabbing boats and pleasure boats to receive a blessing as well.
This past Sunday was the blessing of the fleet on one of the bayous in Terrebonne Parish, and I was there to take photos to share with you.  I hope you enjoy them.
Now, I will let the photos do the talking.
I learned by observation, that you can tell what kind of interests the boat owner has by the flags that are flown.  So, take notice in the following pics.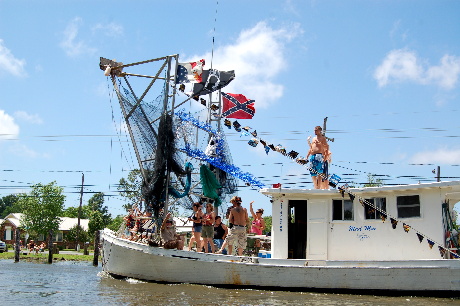 Check out the flags!
Shout out the a local university!
This is the Swamp People boat, and my favorite!
You can't see it, but the green sign on the stern is an alligator saying "CHOOT 'EM!"
Do you think they are Auburn fans?
Just a nice little family in their pleasure fishing boat.
This is just a sampling of the hour-long boat blessing flotilla.  There was music blasting from the boats, people dancing, and just passing a good time down on the Bayou Petite Caillou in Chauvin.  We were on the banks of the bayou at the Sculpture Garden, as I mentioned before.
Sorry to rush off, but I have a million loose ends to tie up for Saturday's Fifth Annual Bayou Dularge Trash Bash!  Will I see you there at 7 a.m.?  I hope so.  I need a few good women to get on my boat with me and collect trash.  Game anyone?
Yours truly,
BW