Beauty beyond the boundaries
If we go about the business of our daily lives and never look beyond the boundaries of the white lines on the road, the edges of the driveway, or the patio awning, there are amazing things we just might miss.
Like the first Mimosa blossoms–sweet-smelling pom poms reminiscent of a childhood feeling that school is about to be out for the summer and the memory of tickling each other's noses with the tender, fragrant fronds.

The Mimosa is a fast-growing, non-native species to this state and country.  The parent tree has been hanging on to the fastly-eroding bayouside since we moved here in 1996, looking like death warmed over after each saltwater flood.  We hacked all the dead branches off the parent tree, while it continued to send runners down the length of the bayou bank.  Now, all green and pink, the Mimosa progeny thumb their pretty pink noses at the storm waters.
And now that the unidentified cultivar that traveled in on those same waters has been identified as "Christ in the Cradle", yet another traveling plant has shown its face . . .
. . . except that this plant did not travel far.  This is a native which has grown wild in the back, marshy regions of our land.  I don't remember transplanting a bulb of this to the front bed, but I've been watching this plant for the past few days from the kitchen window thinking it was a stray day lily about to bloom.
Much to my surprise, it is a wild white spider lily.  I grew up admiring the beauty of the red spider lilies in my Grandmother Vi's spring flower bed.  I know I get my love of flowers from her, and I can't see a red spider lily or purple iris without thinking of her and the smell of her breath coming through her carmine lips on the lilt of soprano hymns.
And then there's this migrant flower that touches my soul each time I see a new place it has volunteered.  Though not a Louisiana native, the wild Mexican Petunia holds a special place because of the way it came to me.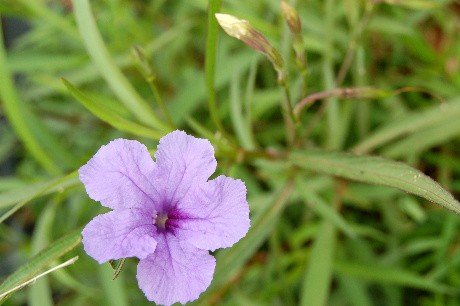 I can't look at a new blossom without thinking about a four-foot-eleven-inch tall woman lovingly called "Grand" (Fr. pronounced grund, meaning tall) by those who knew her best.  Grand was a Houma Indian woman who taught me priceless things about her way of life over cups of coffee and glasses of hand-squeezed lemonade.  After her death in 1998, I asked her son if I might have a little token by which to remember her.  He brought me a bucket of these flowers, and they have spread out of the container and all over my property.  Some consider them a menace to their well-planned flower beds or manicured lawns, but I love their wildness  and hope they continue to thrive and remind me of this outstanding woman.
And last but not least, there is the breath-taking beauty of Bon Temp (Fr. pronounced bohn tohm, meaning good times), a Cajun Hibiscus hybridized by Mr. Dupont.  There's a story behind this flower too.  In 2006 while at a librarians' convention in another part of the state, I met a man who wanted to talk about his idea of using a non-native grass called Vetiver for marsh restoration and protection.  Months later, while distributing a brochure for a wetland project, I stopped by his house in Sunshine, LA where he gave me four pots of the grass.  I, in turn, traded two of those pots to Mr. Dupont's grandson for this Cajun Hibiscus.  I thought I had gotten the better end of the deal until I talked to the grandson recently.  He told me the nursery propagated those two plants and turned them into 300 plants in six months.  Of course, there's more to this story, which shall wait for another day.
This is her second year with me, and she is also a survivor of saltwater intrusion.  Because she was living in a pot, I was able to rinse her with freshwater each day when we came down to work on the house, and she was able to recover.  Tenacity extends even to our plants it seems.
You sit here and enjoy my flowers while I go bake a dewberry cobbler for my son's 24th birthday.
BW