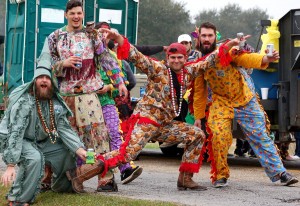 I'm still so excited from all the happenings that I just don't know where to start. So many sights and sounds that I want to share with y'all. I guess the best way is to launch right in and start at the very beginning.
As I stated in my "historical" post about the Courir de Mardi Gras last year, I have wanted to witness this traditional event ever since I first heard about it many years ago. There I was, a couple weeks ago, reading a book on a dreary Saturday when none other than fellow blogger, Shoreacres, called.
She said, "Hey! You remember how you said you wanted to go see the Courir de Mardi Gras? Well, I'm going this year, so how about joining me?"
Well, say no more, let me see who can come down and keep the home fires burning while I take off on this long-desired adventure! Shoreacres made all the arrangements, and I packed my camera bag for Church Point, Louisiana, home of a traditional Courir de Mardi Gras (Run of the Mardi Gras).
Early Sunday morning, we traveled the back roads to the outskirts of Church Point to the home of Rick and Earline, where Shoreacres had managed to get us permission to spend the day. We were told to arrive early because all roads in and out of town would be closed off in preparation for the grand procession. Little did we know just how HUGE an undertaking this was.
Upon our arrival, our gracious host, Rick, already had the butane burner going with a huge pot on top; the beginning of his own hen and sausage gumbo. Nearby in a little cage huddled two more hens that would become part of the festivities later on.
Around 10:30 a.m. sounds of Cajun music lilted across the pastures; the excitement palpable as we made our way to to road to watch. Streams of people filled the road wearing brightly colored costumes, pointed hats, and masks as they walked, rode on horseback or on open wagons.
Among the revelers, The Capitaines, pronounced "cap-ee-tans", rode on horseback, clad in grand silk capes, wearing cowboy hats.
Now, here's how the Courir de Mardis Gras works. Every home that wants to contribute a chicken for gumbo must register first. The procession travels along the rural road, stopping in front of the registered house, gathering ingredients for a communal gumbo at the end of the day.
With the long procession stopped, young men in costume dismounted from their horses or got off their wagons and filled the yard. The Capitaine then raised his flag to signal the releasing of the chickens from the little cage, and the chase was on!
Those young men were fearless. They raced, they chased, they event went into ditches, or coulees. One of these even lost his shoe and another went face-first into the muddy water. No chicken was safe from these tenacious fellows!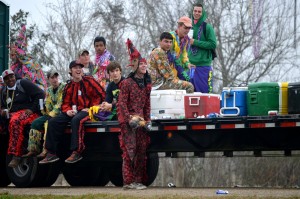 The runner in dark red eventually caught one of the hens, and Shoreacres noticed him hiding it under his shirt, until someone ratted him out, at which point he reluctantly handed the hen over to The Capitaine!
The Capitaine then promptly deposited the unlucky hen into the holding pen . .
where they were guarded by this fellow!
After all the young runners, or "Mardi Gras", passed us by, next came the homemade floats pulled by tractors or trucks. Music blared from every float, including everything from the traditional French song, "Les Danse de Mardi Gras" to modern hip-hop! That was the time for dancing in the streets!
The float riders threw beads, stuffed animals, tiny footballs, plastic cups and on and on.
There were more beads thrown than we could possibly catch, so in between taking photos, Shoreacres and I picked up handfuls of beads from the grass. Doesn't she look like she's having a blast?
And just when we thought the parade should be winding down, we looked down the road, and as far as we could see there were more people on horses, people walking or riding on cute little mule-drawn buggies.
The atmosphere was charged with electricity as the parade circled the rural community collecting items for the gumbo before rolling back into the small town of Church Point, where everything would be cooked into a delicious gumbo for all the runners of the Mardi Gras.
The entire parade took about three and a half hours to pass us. Can you imagine being on horseback all that time? Can you imagine hopping off a wagon at every stop to chase a chicken for your supper?
After the parade, our hosts fed us delicious bowls of steamy gumbo, rice, potato salad and fresh French bread. Mais, cher, it don't get much better than that!
And finally, the last thing that impressed me was the family and friends picking up all the litter. They don't wait for the "city" to come clean up with garbage trucks and street sweepers like they do in the city. The only thing left on the road were stray strands of beads, which residents picked up later that afternoon.
It was the most amazing Mardi Gras celebration I've ever seen with a totally different "feel" and energy from the Mardi Gras celebrations down in New Orleans. This was a down home Cajun blowout; one to which you would feel comfortable taking the entire family. Oh yes, some of the participants and observers were drinking, but there was never any fear of getting shot, worry about strangers snatching your children, or women baring their breasts!
So let me suggest that if you've always wanted to attend a Mardi Gras celebration but didn't want to risk life and limb down in New Orleans, make plans to visit Church Point. You will meet some of the warmest, most welcoming and hospitable people on God's earth. There are plenty places along the streets of town on which to place your chairs and enjoy a picnic lunch while waiting for the "Courir de Mardi Gras" to go by. And don't get in a hurry, because you'll probably be waiting a long, long time for them to reach you; but I guarantee you, it's worth the wait!
Now I know the true meaning of "Laissez les bon temps rouller!" These Cajuns truly know how to let the good times roll! (And then some!)
I'm going to end this with some of my favorite images of the day, using captions to explain each photo. Hopefully, these photos will further illustrate what an exciting and exhilarating celebration this is. Remember to click on the image to see a larger version. If you would like any of these photos, please contact me, and I'll be happy to help you out!
Stay tuned next week for the animals of the Courir de Mardi Gras!