How big is YOUR footprint?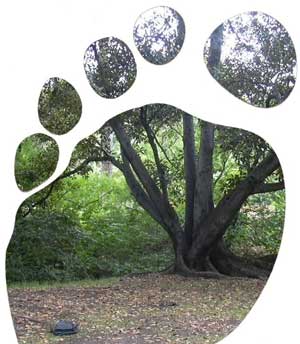 So, just what is a carbon footprint, and how in the world can it be reduced?  I might have a better chance of reducing my shoe size by employing Chinese foot-binding methods than reducing my carbon footprint.  And just what does "going green" mean, anyway? It doesn't have  anything to do with being green around the gills or green with envy, does it?
According to one website, we have two carbon footprints—primary and secondary.  The primary footprint is associated with the amount of "greenhouse gas" (CO2) emissions associated with our direct consumption of fossil fuels, which we have control over.   The secondary footprint is the calculation of our indirect CO2 emissions from the whole life cycle of products we purchase and use.  That includes the fuels used in the manufacture and breakdown of the products we purchase and use on a daily basis.
Simply put, CO2 emissions are a way of life in modern America, and most of the planet, actually.   Since CO2 emissions are called "greenhouse gases", why is the term "going green"  applied to our reduction in use and consumption of fossil fuels?  With about a quarter of a million words in the English language from which to choose, why not choose something like "going basic"?
Consider a cycling group that calls themselves the "green team".   The name connotes a reduction in use of fossil fuels by riding bikes to work as often as possible, but such is not the case.  Although recreational bike riding creates no primary carbon footprint, there is still the secondary footprint to consider in the manufacture of the bike frame, the rubber tires, the helmet, polyester clothing, shoes, water bottle, etc.  Get the picture?
Rather than picking on the cyclists, though, let's consider our creditors.  Certainly you've been solicited to "go green" by "going paperless".  Going paperless includes receiving bills via the internet and paying them the same way.  They make it sound like such a good thing, but did you stop and mentally compare and contrast the carbon footprint of doing so?
Does it take less fossil fuel to use a computer than an ink pen?  Do we burn more fossil fuel by mailing a bill than by receiving it by email?  Granted, going paperless might save a tree, and paying bills online might reduce the fuel consumption of the US Postal Service; but consider the amount of greenhouse gas emissions created in the manufacture of all the computers in use today and the manufacture of the electric energy needed to operate them.   Then ask yourself if "going green" is really all it's cracked up to be.
Let us pause and consider for a moment all the things we do in a day that can be calculated as part of our own personal carbon footprint.  After answering a brief set of multiple-choice questions on a carbon footprint site, my combined carbon footprint was calculated at 9.9 metric tons.  Seems I'm already doing better than the average American, whose carbon footprint is around 20 metric tons.
To those of you who choose to ride a bike or take a hike rather than take a vehicle to the movies or out to eat, you are indeed doing your part to reduce your primary carbon footprint.  For those of you who shop the local produce market, cook and eat at home, or shop at resale stores, you are greatly reducing your secondary footprint.  You are all to be commended and mimicked.
Those of us who live in rural areas and can walk, bike, buy local, and grow our own food have the advantage over city folks when it comes to doing our part to reduce greenhouse gas emissions.   In direct contrast, though, large cities are doing more recycling of paper, glass, and plastic than rural areas.
In my previous post, I pledged to reduce my carbon footprint to the best of my ability.  In light of the recent Deepwater Horizon disaster and oil spill, that meant immediately reducing my use of gasoline by consolidating trips to town,  like I did when my family was young and the budget was tight.  However, while doing research for this little tirade, I was reminded that going "back to the basics" is really what reducing our use of fossil fuels and the resulting greenhouse gas emissions is all about.
There are several books in my home library that served me well when I had more time than money.  Better Basics for the Home and Back to Basics are two that have been moved to the front of the shelf.  If we reflect upon life in America before the Industrial Revolution and the advent of automobiles and airplanes, the answers will find you there.  It might not be easy for all of us to live a simpler life, but we can all make a choice to stay home and read a book or  to pay with cash rather than with plastic.  We can shop for two weeks of groceries, rather than one; and we can drop our paper, plastic, and glass in the recycle bins in the grocery store parking lot. We can sort through our clothes and donate them to resale shops and shop the same stores for gently-used, secondhand items.  Ride to work with a friend, or call your neighbor to ask if she needs anything before you head to the store.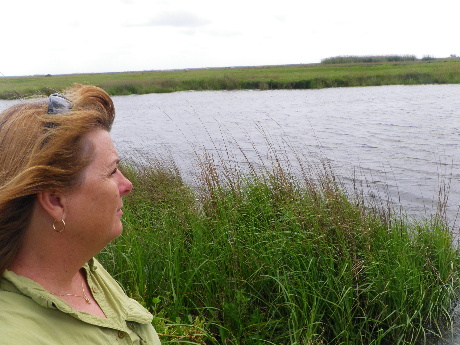 All it took was a major disaster, the loss of 11 lives, and the threat of the loss of miles of much-needed wetlands to remind me that there is still so much more to life than the latest, greatest, biggest, best, sleekest and fastest.
"Going green" might not be all the buzz it's meant to be, but going back to the basics is something I can really get buzzed about.
BW