Adventures of CooNee, the toddler coon
I am soooooo happy to announce that CooNee has gone from the bottle to finger foods – Cheerios, and next on to watermelon, and now she is eating her solids like a big girl – CAT CHOW!
Having been raised inside the house, it can be a rather daunting experience for her to go outside for the first few times. And that is where we're at with her now.
First off, the Big Yellow Dog nips at her. We're not sure if the big dog understands English, so she is not cooperating when we tell her that CooNee is a baby and she is scared and that she must play nicely with her.
Coons and dogs are mortal enemies, and even though we've raised CooNee, those instincts are ingrained her. She immediately gets in her defensive stance when we take her outside and she smells D-O-G.
Then there's the stray cat and her three big kittens CooNee has to deal with. They start hissing at her from the get-go so those friendships don't seem to be going anywhere either.
All that's left is her Boy. CooNee has her boy, and that is enough for her.
She follows her Boy outside to pick figs, but she doesn't stray too far.
"What's that lurking behind that big oak tree? It might be the big bad wolf."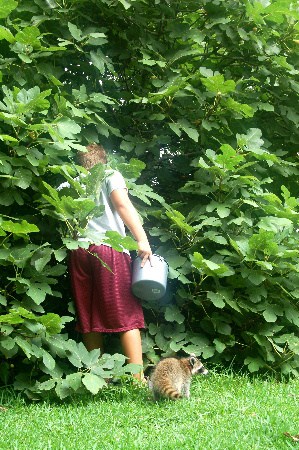 "What are those big metal things speeding by on that gray, grassless trail?"
"Okay, let me get in here and see what all this fig business is about."
That's a nice bucket of figs right there.  We are battling the birds for the last few, it seems!