7:45 in the early morning cold, they arrived, five trucks and this crew again!
They were joined this time by the BIG BOSS and owner Barry himself.
to repair the approximately 80-year old sagging, hand-hewn cypress 4×4 floor joists shown above.
Here's the process.  Check it out starting at the ground level.  Wood blocks, jacks, 4×4 props, scaffolding . . .
Part of the crew operate the jacks, the others stand on the scaffolding holding the "new" 4×6 up to the "old" floor beams, while the Big Boss and I go upstairs and look at the floor.  The boss then yells at them to go up or down or hold it right there.  They repeated this process with each 6 new beams.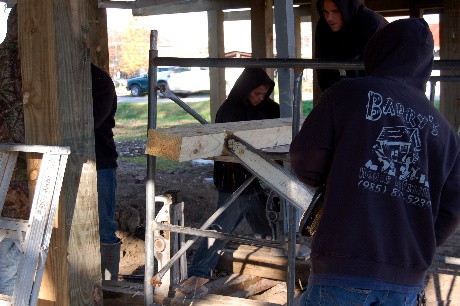 And how did I manage to keep all my expensive paid-for gas pipe work intact?  Cat-Dog, the crew foreman, was handy dandy with a chainsaw.  He notched the last two beams to fit right over the gas pipes.  YIPPEE!!  That made me a happy camper once again!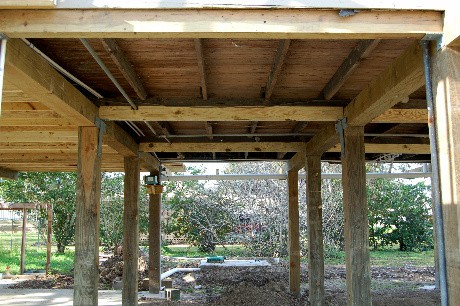 See the gas pipes up on the left?  The only pipe I have to replace is a drain pipe they cut, but I can handle that, right?
The saggy bottom is no longer sagging.  They were finished in under two hours.  Don't we wish it were that easy ladies?!
Thanks for making this right, BigBoss!!!
Tomorrow's post is going to be another giant step forward folks!!!!
Almost giggling with glee,
BW