In case you're thinking that's where Santa stays, think again.  The Jolly Inn is a local, old-time dance hall in Houma, Louisiana, where you might find yourself having a jolly old time, if you just let your hair down and let your feet fly!  That is exactly what Lil Sis and I did on one of her recent trips down the bayou.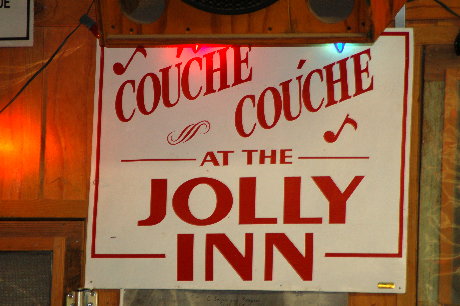 Werlin Propserie, Sr. is the owner and leader of the house band, Couche Couche, which plays Cajun music every Friday night for your listening and dancing enjoyment.  This is the night that families can attend and bring the kiddos.  There about a dozen "wash boards" hanging on the bandstand for anyone brave enough to give it a go.  The music begins at 8 P.M. and so does the dancing.
As a matter of fact, as the second note rang out, Lil Sis was asked to dance by an older gentleman at the next table.   After she politely declined the invitation, he broke the ice by telling us a great Boudreaux and Thibodeaux joke.  Even though she never danced with that particular gentleman, it wasn't long before she had chosen her partner, caught his eye, and took to the floor.
This fellow was a great dancer and good teacher.  He must have really liked her style, because he danced with her several times.  He only asked me once, and while we were dancing told me  "you lead very well".  I was crushed!  So, I contented myself with taking photos after that.
I think LilSis ended up being the "guest belle of the ball", as several of the gentlemen made the rounds with her, taking turns welcoming her to the Jolly Inn.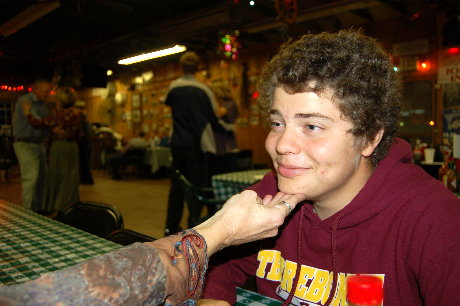 At one point, Termite joined us, but try as we may, we could not get him to dance . . . not even when there were a couple pretty girls there his age who looked more than willing to teach him a dance step, or two.
Turns out, it was one lady's 83rd birthday party, and the girl above is one of her grandchildren.  This young man wheeled the birthday lady around the dance floor in her wheelchair, giving her a big spin at the end of the song.  (I had photos of that historic moment, but then suffered a memory card glitch.  Sorry.)
The Jolly Inn is taking the next two weekends off but will be back full swing the second weekend in January.  If you ever make it down this way during the weekend, be sure and plan to spend a couple hours on Friday night eating good food and then dancing off the calories on this old wooden floor to the toe-tapping beats of  Couche Couche.
If you live within driving distance of Houma, you might want to take advantage of the Tuesday night line dancing lessons!  Or, if couple's style dancing is more to your liking, Sunday afternoons from 4 p.m. to 8 p.m. is just for you.
Whether you would like to have a good Cajun plate lunch, a drink at the bar on Thursday nights while listening to local one-man musicians play, or prefer to dance the evening away, Jolly Inn is the place for you!  Come on down and give them a try.  We think you'll be glad you did!
This commercial brought to you free of charge by Bayou Woman!
So, how are your Christmas preparations coming, everyone?
Very jolly,
BW