Basically, you've seen the damage and repair of Camp Dularge.  Now it's time to take a peek into what's been going on "down the bayou" at our home since BB arrived.
You see, BB is a much younger and more energetic woman than I.  So she drove herself here from Mississippi to build a little fire under me and get me going on preparing our old house down the bayou for "re-entry".
This is a photo of our home the day after Ike made landfall over Galveston, TX this past September.  The water reached about a foot and a half high inside the house.   It was several more days before we were able to actually get inside.
This was after the water receded a little.  If you look closely, you can see the watermarks on the laminate flooring, the mold on the sofa, and the water line on the wall paneling.
Behind that wet paneling, and beneath that flooring is lots of wonderful smelling mold and mildew that somehow must be dealth with before we can move back.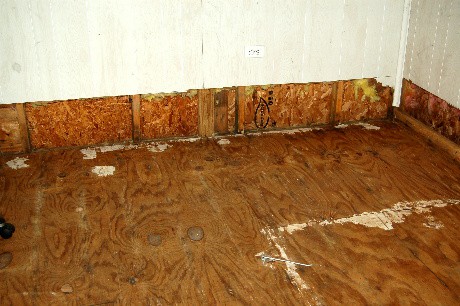 BB and I both had the same idea of cutting out the wet paneling and insulation . . .
then scrubbing the plate and wall studs with bleach and water solution, killing all the resident mold/mildew.  We placed fans around the room to help dry the wood before sealing the walls up.
We recycled old ceiling plywood from the patio roof of Camp Dularge.  BB marked the plywood into one-foot wide strips for the walls. . .
and then cut them . . .
We primed both sides with Kilz, a mildew-killing primer, and then painted them with leftover paint from the kitchen of Camp Dularge.
Tomorrow, we will nail them into place, clean and replace the baseboards.  Later, I'll have to actually buy some molding to cover the paneling/plywood joint.  That's only cosmetic.  It can wait.
What is so great here is that the room no longer reeks of mold and mildew.  We will be able to breathe in this family room without the worry of black mold creeping up the inside of the walls (as it was already doing).
To be continued . . .