Oh, and did I mention snakes?  Today we saw the most snakes out sunning on branches that we've ever seen in one trip.
Joan, head of the Presbyterian Disaster Assistance camp in Houma, LA and her hubby, Jeff, joined Termite and me today for their very own little wetland tour.  The trip was a birthday gift from Joan to Jeff.  What a delightful gift!
The morning was beautiful, with only a slight breeze–until we headed out, of course.  They were clad in shorts and t-shirts–I was in jeans, undershirt, overshirt, and hoodie!  Their being from Michigan might have had a little something to do with the difference in our attire.
The gators are just waking up from their long winter's nap . . .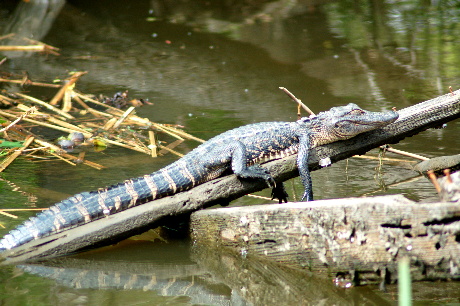 except this little guy didn't even wake up while we were taking his picture!
Not ten yards from him . . .
this one said "cheese" for us as we drifted by!  Alligators are just so much fun to photograph!
At some point around this time, Termite took over my camera so I could drive the boat.  I get a little distracted with a camera in my hand!  It was really good have him out of school and on the boat again.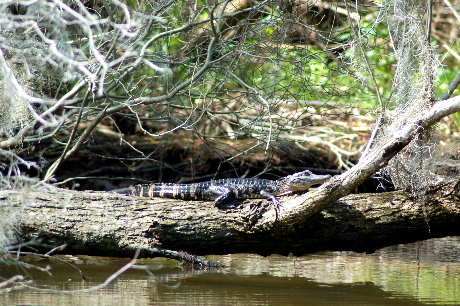 This little one had climbed way out to grab some sunlight.
Did you know that gators lie in the sun to digest their food?  Something about having to raise their body temperature in order for that process to begin.
There we were, just putting along, taking pics of gators on logs when all of a sudden someone yelled, "Look!  Another snake!"
Man, oh man, what a snake it was, and it looked like it had just eaten a big rat!  This one actually slithered down into the water, but I was so intent on keeping our distance, even though the current had other ideas, that I didn't even get a good look at its head.
Realize, friends, that these snakes are all in a very small area of swamp!
If one big rat snake weren't enough, there was this one looking at us while we were watching its neighbor down in the water.  This one never moved.  It just stared and stared at us, and upon closer inspection, now I see why.  It had just swallowed something HUGE, and it could NOT  move.  See the big misshapen lump down behind the lower curve of its neck?    Ewwwww!!
As if those weren't enough to give you nightmares for many moons, off to the right . . .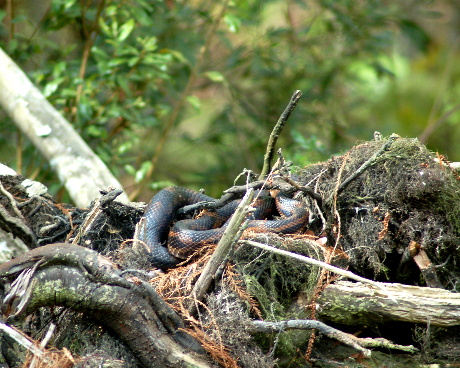 was this coil of creepy crawly blackness wrapped up in its own world, totally oblivious to our presence.
Now if any of you readers know an exact identity of these snakes, please share your wealth of herpetology nomenclature with us.  If you are guessing, then I have already guessed with the best of you.  That last one has me puzzled, and I never saw its head to help me identify it.
Like the title says, we saw lots of gators on this trip.  They were all sizes and shades of gator shades.
This one . . .
looked like a frog that had morphed into a gator, or would that be a gator morphing into a frog?
This one looks like he was posing for the May issue of GQ–Gator's Quarterly– styling his black-and-tan-striped tail.
I was a little disappointed that the winter abundance of wading birds had already given way to spring.  I love the birds so much, that it makes me sad when they don't line the banks and fly across in front of us, leading the way.
But Nature had a nice surprise for us as we left the swamp . . .
a pair of black-necked stilts.  They are a petite, skinny sprite of a wading bird, which I've never gotten this close to before.  They didn't stand still, and the boat was moving, so it was difficult for Termite to make his shot.  But you get the idea, right?  The photo in this official bird identification site isn't much better, so pat yourself on the back, Big T!
and because he gave it such a good try for a teen boy, I'm including this flight shot.  I wonder if this boy realizes yet that he just might have a future in wildlife photography?  He has neither been on a tour nor touched my camera since he started school back in August.  Hmmmmmm.
I hope you enjoyed this virtual wetland tour.  Each one is different and unique.  When will you come down and enjoy one of your own?  The Louisiana wetlands are waiting for you!
Enjoy the holiday weekend, friends!
BW