Come along on an April Wetland Tour!
Since most of you won't be able to make it down this month to see the spectacular spring beauty bursting forth in the marsh and swamp, I will bring this annual event of nature to you.  Enjoy!

Great Blue Heron

Great Blue coming in for a landing
This is just a smidgen of the amazing things that abound in our marshes and swamps right now.  So many more photos I could share, but it's sort of like going to visit friends and having them pull out the slide projector of their latest vacation.  Yawn!
But before you totally nod off on me, let me tell you what happened Thursday.  If you've been watching the news, you know it's snowing up north and many of us experienced a cold front this week.  Well, the rain reached us Thursday around noon, and it stopped around 4:00 p.m.
As the sun broke through, suddenly there were choruses of bird song in the trees just outside my office, so I grabbed my camera and slipped slowly out onto the front porch hoping to see the migratory visitors.  And just like that!  The trees were full of bird ornaments, of all colors.  Initially, these birds came from farther south, like Panama and Mexico, where they spend the winter.
They make that long trek across the Gulf of Mexico and sometimes literally "fall out" of the sky at the first land they see, exhausted, hungry and thirsty.  I'm pretty sure these birds had already recuperated on the barrier islands, maybe even Grand Isle, and they trekked a little closer to home Thursday by riding on the winds of that front.
My zoom lens is not working for some unknown reason, so here is the best I could do to share this phenomenon with you.  A pair of Summer Tanagers.  Can you guess which is male and which is female?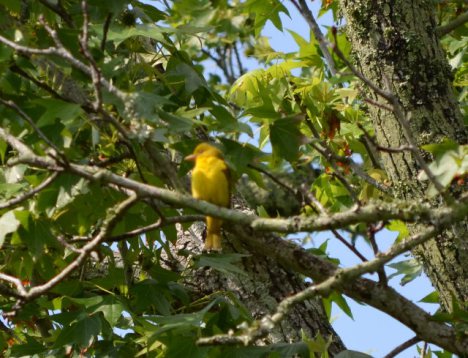 Well, I certainly hope this little photo tour didn't make you too, too envious of our real spring down here, because I know some of you are experiencing snow, freezing rain, and frigid temps.  It will be spring soon enough; meanwhile, you can just enjoy spring on the bayou!
Guess what?  It's already time to pick the dewberries!   (upcoming post)
BW