CRCL Coastal Stewardship Awards
Way back in 2004, I penned a little children's picture book about 30 years of wetland loss that took place since I moved to lower Terrebonne Parish of south Louisiana. The book became a reality when, in February 2005, I held the first hardcover copy of Before the Saltwater Came.
Since then, that little book about saltwater intrusion has paved the way for me to become known as not only a wetland advocate, but also a wetland educator, opening the doors of schools and libraries across the state. Using a Power Point slide presentation of photos about our everyday life in these Louisiana wetlands, I have had the opportunity to introduce thousands of students, teachers, librarians, civic groups, and disaster relief volunteers not only to our environment here, but also to the associated culture and way of life.
Those talks eventually grew into my Wetland Tour & Guide service, which enabled folks to actually go out on a boat and see our beautiful bayous, lakes, marshes, and swamps firsthand, and to see the causes of wetland loss and the resulting negative impacts.
Here we are, ten years later, and yet another page has been turned in the life of this wetland educator.
A couple months ago, I received a call from Polly Glover, a teacher in Ascension Parish. She introduced herself by saying that she has been using Before the Saltwater Came in her classroom of fourth graders for the past ten years. Her enthusiasm was contagious, and compliments floored me. She shared with me how her father had been a coastal conservationist for many years when he was alive and that she is following in his footsteps, doing what she can to help restore and preserve our coastal way of life for her children and grand children.
She is now a member of the Executive Board of the Coalition to Restore Coastal Louisiana (CRCL), which was formed in 1987 by a group of folks concerned about our vanishing wetlands and threatened coastal communities. CRCL is a hands-on, boots-on-the-ground non-profit that, among many other things, takes volunteer groups out to plant marsh grass and trees in coastal communities and on restoration projects.
In our phone conversation, she proceeded to tell me that she wanted to nominate two people for CRCL's 20th annual Coastal Stewardship awards. One of those nominees was a much-deserving woman, Janet Rhodus, who formed Launch Leeville, a non-profit focused on reviving Leeville, near Grand Isle, and putting it back on the map of important coastal communities. Janet's accomplishments and successes after only a couple of years are numerous. I first learned about her passion during an episode of Weekends with Whitney Vann, a Baton Rouge-based TV show.
Then, the really shocking part of my conversation with Polly unfolded. After telling me some of the great things she had done using my book in her classes over the years, she asked me if I would allow her to also nominate me for the same award. To say I was delighted might be an understatement, because it never occurred to me that the work I've done over the past ten years would qualify me for such a nomination, much less the award.
My head still reeling, I agreed to let her nominate me; and after that first phone conversation, we have stayed in close touch. She fishes in the eastern portion of the parish and expressed wanting to see my neck of the parish. To that end, she came on down to Camp Dularge earlier this month, and we went on a wetland tour together, along with her friend Rene`. We fished a little bit, too, without results; but it didn't matter, because eating our lunch in the beautiful cypress swamp more than made up for that fact.
It was my great pleasure to share the wetlands of my portion of lower Terrebonne Parish with Polly. Seeing the swamp through her eyes helped reinforce why I do what I've done for the past ten years in education and advocacy. Even though I sound like a broken record, these wetlands are a valuable asset, not only to our state, but to the nation, and very much worth restoring.
Unlike the late Paul Harvey, famed for saying, "And you know the rest of the story", I won't leave you hanging about the awards. Janet Rhodus received one of six Coastal Stewardship awards out of 32 very well-qualified nominees. Like me, Janet is a concerned and caring citizen who wants to preserve the culture and way of life of the community of Leeville. Like Janet, I'm not a scientist, or government official, and I don't have Dr. in front of my name like many of the other nominees and recipients.
In spite of those things, a group of people in the realm of coastal restoration and preservation thought something I have done over the past ten years was significant enough to also select me as an award recipient. I cannot even begin to put into words how much that means to me.
This past Friday night was the awards banquet in Baton Rouge, LA, where I met Janet Rhodus for the first time, and what an honor to meet her and to see the other four recipients. Again, for sake of space, you can read more about them here, and I hope you do so.
I would be remiss if I didn't tell you a little about this award. This is a great blue heron, hand carved from wood by Rock Zeringue, who has been carving these awards for years. Please follow this link to read more about this amazing and talented man. To me, it is no coincidence that the great blue heron is on the big sign in front of Camp Dularge and part of the Bayou Woman Adventures logo. It is significant, right?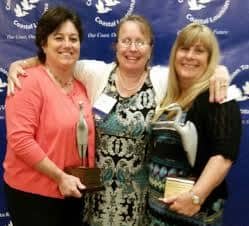 So, to my new friend, Polly Glover, I'd like to offer a million thanks for purchasing the book ten years ago, for using it in the classroom, and for making such a huge impact in the wetland education of so many children over the years. What is even more profound is the fact that Polly's students are challenged, something I didn't know until Friday night.
As if receiving this award wasn't gift enough, Polly also gave me a gift I will certainly treasure for years to come.
She gave me a binder filled with letters from her students about why they thought I should receive a Coastal Stewardship Award, and I was touched beyond words. Writing doesn't come easily to most of us, and for these students, penning these letters in their own hands is truly a noteworthy accomplishment. So to each of these wonderfully gifted students, I offer a big bayou thank you! Your letters encourage me to keep on doing what I'm doing and to continue to push for the restoration of coastal Louisiana.
Many thanks, again, to Polly Glover and the Coalition to Restore Coastal Louisiana. Together, let us continue our fight for the restoration of coastal Louisiana!
For the wetlands,
BW