Our Rock Star really rocked!
A couple of months ago, Dotter was talking to Miah about Halloween coming up and asking him what he wanted to be this year.  As you might recall, last year he was a Zombie, and Dotter really enjoyed creating his costume and makeup.
This year, though, Miah wanted to be Adam Lambert.  Adam Lambert.  That's right.  I'm not even really certain how he knows the American Idol star, but his mind was made up.  Dotter tried to convince him just to be a "Rock Star", and I think he finally agreed.
So, she put her skills to work and this is what she came up with . . .
She bought some kind of costume wig and tailored it to suit their purposes, and he was surprisingly willing to wear it — even though it proved to be a bit itchy.
At the "Trunk or Treat" at a local church, he made himself right at home helping hand out candy and then walking around showing off his rock star hand signs and costuming.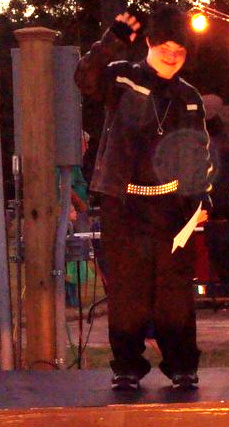 Somehow he found out about a costume contest and entered himself.  He is seen here standing on stage after receiving his First Prize, which turned out to be a $15 gift card to AMC Theaters.  He was about as happy as a crawfish in mud about all that!
He begged to wear his wig to school today, so I let him.  I'm not sure how that goes down with Dress Code, but I'm sure he got a kick out of it for the little time he did wear it!
It does my heart good to see the closeness between these two kids of mine.  Dotter is a very, very special sister!  This is her baby, and she takes really good care of him.
Back in 1992 when I told the three older children that I was pregnant, Dotter asked me if this one could be HER baby.  Of course, I told her yes.  She was only ten years old when he was born, but she toted him everywhere.  She was as attentive as a "sister-momma" could have been.  He has always loved her as though she really were his mother, and for a very long time, I believe he thought she was  . . .
Happy All Souls Day, everyone!
BW