Move over chili and make way for easy breezy Taco Soup. Sometimes we bayou women have to unchain our selves from the cooktop and Magnalite long enough to do other important things (like blogging) in life.
We went to bed last night with the AC on and woke up this morning needing fuzzy slippers and flannel robes. This cold snap inspired me to do two math lessons (much to Termite's dismay) and throw together our new replacement for chili on a chilly day.
It is so easy that you'll feel guilty listening to all the ohhhhhhhhs and ahhhhhhhhs this soup will produce from your hungry family–unless, of course, you go back and chain yourself to the cooktop right before supper and look really, really tired.
You will need: 
OMISSION: The meat is not in this photo. That is because I took mine out of the freezer, already cooked. I know. I'm so good. You may use either ground beef, ground turkey.
SUBSTITUTIONS: You may substitute plain diced tomatoes for the Ro-Tel, if you don't like spicy. You may substitute chili, kidney, or pinto beans and any brand of taco seasoning.
After your meat is browned, on med/high heat, add tomatoes, sauce, beans and about 1.5 cans of water. Now stir in both seasoning packets. (OPTIONAL: Use the Goya only if you desire more flavor.) Bring to a high heat, then lower to simmer about 15 minutes. If you like your soup thinner, just add more water and taste for flavor. Remember, you have Goya on hand to add more flavor if you need it.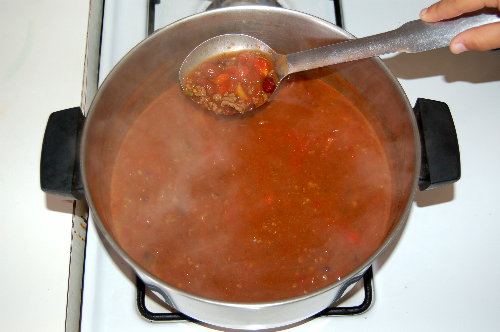 While the soup simmers, preheat oven to 400 degrees. 
Using a pizza cutter (Termite's idea–those are his chubby little hands), slice flour tortillas in thin strips and place on greased baking sheet. Bake for about 8 minutes until crispy. Bake a pan full because they replace crackers and are actually very delicious with the soup.
Garnish with cheddar cheese and ole`! Delicious taco soup in half an hour.
Now, you may go chain yourself to your computer or your camera (guilt-free) and come up with a new post for all your readers! If you try this recipe, please come back and leave me a comment as to how you liked it, ok?
Post Script: I just noticed that the apples on the side of the bowl and plate are not posed as they should be. This is going to drive me crazy until I fix my bowl for supper and re-take this photo. No, I'm not OCD, I'm not OCD, I'm not OCD . . .
(6:30 p.m. Heavy sigh of relief . . .my apples are in order now. I can sleep tonight.)
Wait a second. Where's the spoon? It's too late. All the soup is gone. I can't serve up another bowl–they licked the pot clean. I can't re-take the photo.
Let it go, let it go, let it go . . . . .
Taco Soup
Print Recipe
Ingredients
1

Pound

of your favorite ground meat

1

Packet Ranch dressing mix

1

Packet Taco Seasoning

any brand

1

Can Tomatoes and Chilies

any brand

1

Small can tomato sauce

1

Can black beans

see below

1

Can kernel corn

optional

Goya Mexican Seasoning - Optional

Couple cans of water
Instructions
Brown the meat in a big heavy saucepan, drain.

With stove on medium, add tomatoes, sauce, beans, and 2 cans of water and mix well.

Add Ranch and Taco packets.

Mix well and add more water to the thickness you desire.

Simmer on low heat for about 20 minutes.