It all started on September 1, 2008 with a Category 4 storm called Hurricane Gustav, which made landfall near Bayou Dularge, LA and then continued upland, with tornadoes spinning off every which way.
Somewhere along the path of those storm-strength winds was Handy Friend's  yard, full of mature majestic red oak trees.  For about 75-year years those great oaks stood strong, but this was one storm they just could not stand up to.
Five of them, each about 100 feet tall, met their match and lost the battle with the hurricane force winds of Gustav.  One by one they fell, King Pins of Handy Friend's private forest.  The worst, though, were the ones closest to the house that came crashing down, taking the back porch with them.  With the shade of the back porch, so went the years of shade provided by those beautiful red oaks.
Being the resilient earth father that he is, Handy Friend decided to make the best of a very bad situation.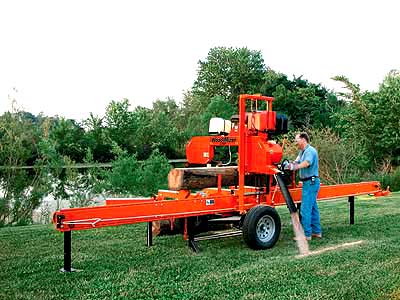 He turned his lemons into lemonade, or rather, he turned his trees into something more useful.  He hired someone with a portable sawmill to come to his house and rough cut the logs into board feet, which could then be finely milled into something more useful.
After the rough cutting was finished, Handy hauled the boards, one trailer-load at a time to a big building, and stacked them with air space between each row, where they could air dry over time.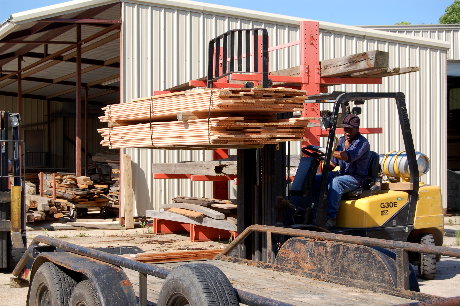 After about eight months, the first batch was ready to take a ride to Baton Rouge, where they would be finely dressed for their final purpose in life.  And then after Handy used those newly-dressed boards to refurbish three bedrooms in his home, he asked us if we would be interested in any left-over materials for our new home.
Of course, I jumped at the chance to have recycled storm materials in our new home.  I had read about a couple in Opelousas, LA, who felled trees on their own property in order to build their home.  But this was nature's provision, without having to purposefully end the life of any tree so that we might enjoy the outdoor beauty indoors.
So just what would the fate of these felled wooden soldiers be?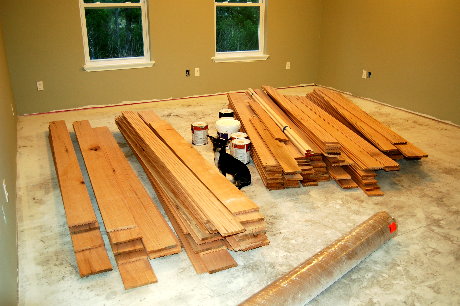 About 800 square feet of the newly-purposed planks took a ride down the bayou, where the storm that killed them made its entrance (how ironic?), to their new home and awaited their assignment in the newly-built air-conditioned home of BW and family.
With chop saw and floor nailer in tow and not wanting to entrust his trees to just anyone's care, Handy Friend came down the bayou to help with turning the boards into a dream come true . . .
new hardwood floors for the Bayou Miracle Tree House!
Handy friend nailed each plank into place after I squared off each end with the chop saw.  At the end of two days, the floors looked like this . . .
They were absolutely stunning without any stain or finish on them at all.  They were so smooth from the planer at the mill, that I wished they could just stay this way.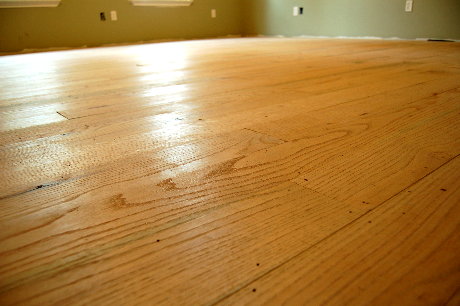 As I learned from Handy Friend, it would not be in the floor's best interest to remain undressed.  The wood needs to be protected for the long haul and wear and tear they will receive from about one hundred years of potential use underfoot.
Although I liked the natural color, in the end, I opted to go with a stain that I custom mixed, with much apprehension and hesitation . . .
The end result was so stunning, I don't know why I worried so much . . .
Pretty enough just like this,
but once the baseboard and shoe mould are added, the floors take on another dimension.
This is the kitchen, and I'm noticing really neat ways that the light plays across the floors and walls in the new house.   See the light on the cabinets?
This is the journey of the Prairieville Red Oaks that gave their life so that the Bayou Miracle Tree House could have these gorgeous floors, that otherwise would be graced with the affordable.  And also the tale of just one more miracle that is making this hybrid house a home.
Thank you, Handy Friend, and thank you Mother Nature, in a very indirect way, for allowing something good to come out of a hurricane, after having experienced so much bad from four of the same over a three-year period.
One step closer to moving in,
BW