Point of Vue Takes a Wetland Tour
This week I had the distinct pleasure of meeting the handsome, young editor of POV magazine.  This tour was scheduled to take place on September 5th, but as you well know, I was evacuated at that time and waiting to see where Hurricane Ike was going to make landfall.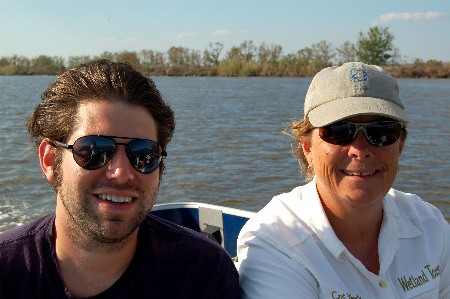 Editor Justin Martin continued to check on me through email and then phone calls after my return down the bayou.  He seemed to be more concerned about our well being than he did about getting a tour and and article, so when the time came, I was happy to accommodate him.
I don't usually post about every wetland tour I have the honor of doing, but this one turned out pretty neat.  There were no time restraints, and Justin seemed genuinely interested in the rantings of an impassioned Bayou Woman about the problems, causes, and solutions.
It was great to see that the canal leading into the Mauvais Bois Cypress Ridge was clear of hurricane debris.  After Hurricane Rita, so much marsh hand been chunked up and pushed into this canal it was impassable.  See the cypress trees in the background?
They seem to have fared the storm well. Even though there was storm-driven saltwater intruding into this area, I think by the time it got this far to the northwest, it had been absorbed and diluted to the point that it posed no direct threat to these trees, thank God and nature.
Producer Stephanie Kovac and I made a post-hurricane tour of the cypress swamp two weeks ago, and determined that the "browning" of the cypress needles was more due to the time of year than saltwater intrusion.  Again, thank the heavenlies.
In the process of explaining to the editor of POV what an "educational wetland eco-tour" covers, I reminded him that I do not feed wild gators (nor any of the wildlife) and that if we see an alligator (or any wildlife) it will be lagniappe (a bonus)!
And what a day it was for gators.  I guess he could have called me a liar when I told him we don't always see gators on this tour route.
Since I was manning the wheel for Martin and his photo shots, Termite grabbed my camera and went to town. All photo credit belongs to him on these shots.  Enjoy!
How many gators do you see?  Actually, there were 3!
Termite:  "Mom, can you unjoin LOWA so I can enter these photos in the Youth Photo Contest next year?"
Termite:  "Back up Mom!!  I see one in there."
Me:  "Ok, but I don't think you will be able to focus through the branches."
Termite:  "Don't worry about that. Just back up the boat, okay?"
Me:  "Aye aye, Captain!"
By golly!  He did it! And people don't think he takes his own photos. Well, now I have editor Martin as my witness!!!  The camera never touched my hands!!!
Smile for the camera!!!
"Back up again, Mom, that one has his mouth open!"
It was a great pleasure having Justin Martin on my boat.  He was inquisitive and attentive.  I hope he got some good fodder for his December issue.  I'll let you know when it comes out!
Home isn't home yet, but I just can't stay off the water.  Selfish, no?
BW