2013 Gator Season Full Swing or Nearly Over?
With near fall-like temperatures, the hunters aren't the only ones enjoying the milder climate.  Seems bountiful numbers of hungry alligators are taking advantage of the free lunches being offered throughout the marshes since Wednesday, the first official day of alligator season.
Unlike the antics you see portrayed on the popular show "Swamp People", our hunters down here around Bayou Dularge don't have time to mess around with the gators, jerking them this way and that.  Almost all of them have other full-time jobs and must burn some of their vacation days to get their tags filled.
So, naturally, it make sense for them to get down to the brass tacks right away and not dilly dally at all.  It also helps that Labor Day falls within the first full week of gator hunting, giving them an extra free day if they need it.
This year, the weather proved suitable for both gator and hunter, as boats loaded down with piles of gators started arriving at the buying dock before noon. Many of the boats even had the maximum allowable catch for a day, which was 20 gators a day for this particular land company.
At that rate, most of the hunters who had 80 or fewer tags have already FINISHED with their gator season after only FOUR days of hunting!  They are spending today picking up all their lines, scrubbing their boats, and putting everything away until next year when they will do it all over again.
How great for them that they will not have to labor on Labor Day!
Every hunter I talked to said this was a magnificent start to a gator season–not like last year that was totally messed up by Hurricane Isaac and the evacuation. Bad weather also slowed them down in 2011, so they were happy to catch a break in the weather this year.
Although I failed to get a photo of it, this year's largest gator for our area was caught on opening day and measured in at 12 feet, 3 inches long.  Now that's a big gator. Furthermore, no one will see any film footage at all of our hunters or their gators, as the land company doesn't allow any filming at all for any reason whatsoever.  They wouldn't even allow my friend who works for FOX 8 News to interview a hunter and put a positive spin on it.
One land company spokesperson blamed the animal rights activists for that. Well, here's a nice tidbit for the activists.  Alligator hunting in Louisiana is well controlled by the state government, and without this program, we would have gators eating our cats, dogs, chickens, and eventually children.  But, due to a shortage of ammunition (mainly .22 bullets) some of the hunters had to strike the gators in the head with hatchets in order to kill them. How's that for humane?
If that offends any of my readers, I apologize, but "folks" are buying up ammo before it can hit the shelves, causing wide-spread shortages.  This isn't fantasy, either, because I have gator-hunting friends who had to travel out of town to get their ammo.  With two Wal Marts, an Academy, and a locally-owned sporting goods store, that's pretty extreme.
As a matter of fact, Lil Sis was down for the week, and we decided to visit both Wal Marts to see if they had any .22 bullets.  Not only did they NOT have any at all, most of the ammo shelves were naked.  Empty.  Nothing there.  When I asked the clerks when they might get more, they gave me some double talk which amounted to this, "We have no clue."
Just remember, we have lots of new folks following this blog these days.  We welcome all of you, but please know up front that this is a blog about life in the Louisiana wetlands.  These are working wetlands that provide a way of life and support a culture, and if you don't live here and depend on those things, you might not understand our way of life, approve of it, or be comfortable with it.
We just ask that you respect it.  Please respect the hardworking folks of the bayou, what they do to survive here, and we should all get along just fine.
What's coming next?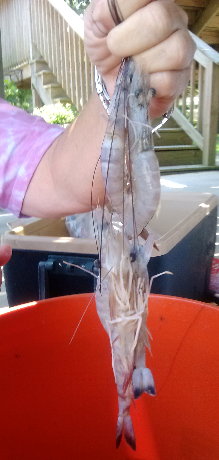 Well, it's white shrimp season, so it's about time for a new shrimp recipe, isn't it? We are looking for a recipe that mocks the "Shrimp and Grits" at Cafe` Amelie on Royal Street in New Orleans.  I've done exhaustive research AND have mixed and matched recipes trying to mimic theirs with only minimal luck.  And no, the cafe` would not give it to me.  I asked.
There just might be a prize for the first person who can get that recipe (or one identical) for me to try in the BW test kitchen and post here for everyone!
Bring on the recipes!  (Put them in the contact box at the bottom of the About page, not in the comments section, please.  Sorry, but I'm not interested in links to recipes since I've probably already seen them ALL!  Thanks.)
BW