These photos were just sent to me by a friend in Placquemine, LA.  His family owns Dupont's Nursery, and his grandfather is the man who developed the gorgeous Cajun Hibiscus you have seen featured in some of my photographs.  His name is Rob, and he did me a huge favor by forwarding these photos to me this morning.
He has seen this bird hanging around the nursery recently and was finally able to photograph it in a nearby field while the grass was being mowed.  I assume the cattle egret was following behind the cutter picking up bugs to eat.
I am not taking time to research this before posting it up, because I have to jet outta here to go fishing, but if one of you does a follow up and gains any information on this, please share it with us here.  LSU is supposed to go there today and check out this amazingly colored bird.  (And it's not as simple as eating shrimp, because there aren't any shrimp available where this bird was discovered.)
See for yourself!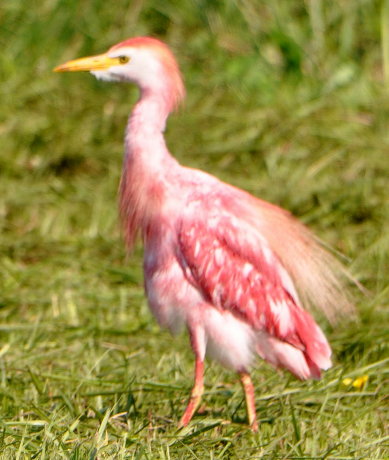 Is this a cross between a Roseate Spoonbill and a Cattle Egret?  Can that even happen?  This is the color of the roseates, though!
Okay, be back later to read your comments!!!
BW