I'm sorry.  I am really, really sorry.  I promise I will never, ever put your through such a rigorous contest again.  What was I thinking?  I guess I wasn't thinking.  Why?
Because life is just crazy right now.  There are at least four families in my circle of friends that are going through a trial.
Plus, I've been distracted by broken things that need fixing and expecting you to entertain me with your answers, rather than entertaining  you with my stories.
Furthermore, I've been up to my elbows in grease trying to repair the small outboard so that Termite can make the last weekend of duck hunting.  The regular duck-hunting boat had a major breakdown, so that expensive repair will have to wait.
On the bright side, we recently indulged in the first baked delights of the "season".  Do you know which season that is?  It isn't celebrated everywhere.
That's right!  It's King Cake season.
Dotter came down and brought this ready-to-be-decorated King Cake, complete with colored sugars, plastic decorations (which I've NEVER seen on a King Cake before and have no idea why Cannata's included a crown, a mask, and a clown?), and of course, a TINY BABY.  For some reason, this baby was gold.  Never seen a gold baby before, but every bakery and grocery store is competing for your King Cake business, so I guess they think it might give them an edge.
I personally like the pink babies.
And do you know the story of the King Cake?  No?  Well, I'll give you the short version:
In the Christian religion, January 6th is called The Epiphany, and some know it as King's Day, in honor of the three wise men who searched for the baby king (Jesus).  King Cakes, with a plastic baby hidden inside, became part of the celebration to symbolize the finding of the baby Jesus.
Traditionally, the cakes are oval-shaped to show the unity of all Christians.  Furthermore, January 6th, also called Twelfth Night, marks the beginning of the Mardi Gras season, with the carnival colors of purple, green, and gold placed on the cake (hence the colored sugars).
As the cake is eaten, each person waits anxiously to see who has the piece of cake that contains the plastic baby.   That lucky person is "obligated" to bring the King Cake to the next celebration.
Termite did the decorating honors and chose to mix the sugars rather than apply them in single-colored strips.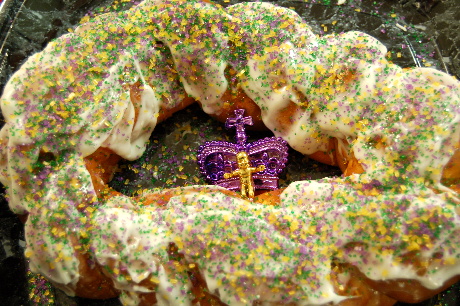 The cake had a little bit of filling inside.  The first person who guesses the correct filling flavor will be able to participate in the celebration with a King Cake of their own.  How's that for sneaky?
One exciting thing happened this week, but because I've been so distracted, I forgot to take my camera and I don't have a Smart Phone. So sorry, but you'll just have to settle for the story. . .
Dotter and I recorded background vocals for an up-and-coming Cajun-French rock band.  It was the real deal:  sound booth, head phones, big round microphone.  Let me tell you something, singing with those headphones on is harder than it seems.  I now have a new respect for recording artists and the technicians who do the mixing and recording.  It was really fun, and we got to hear the final product before we left.  Now, just waiting for our copy of the CD!
Upcoming is a trip to New Orleans to see (myself in) an exhibit called "Living with Hurricanes:  Katrina and Beyond", to eat shrimp and grits for lunch at Cafe Amelie, take pics, and write a food review for eatlikeanative.com, and have dinner with my first-born son.
So, please come back!  I've missed all of you, and I need to know what you've been doing!
Write soon,
BW